News > Features
Film, music, TV – Cannon's career is shooting to the top
Mon., Sept. 5, 2005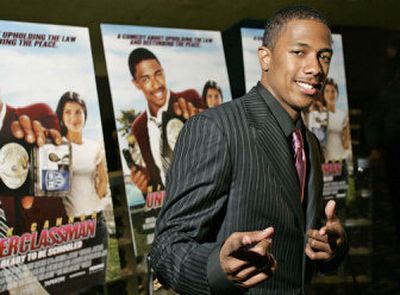 Nick Cannon says his new album is personal – and you can hardly get more personal than begging your mother, from the womb, not to have an abortion.
That's the gist of "Can I Live?," the single from Cannon's "Stages." The contentious subject matter has gotten the song banned from a few radio stations, but it's also found a receptive audience; it was the top music video three weeks running on BET in July.
Is it a pro-life anthem? No, he says.
"It wasn't me trying to be pro-life or pro-anything," Cannon says during a stop to promote his new movie, "Underclassman," which opened Friday. "That was just me telling my story.
"My mother was pregnant with me at 17 years old. A lot of people were telling her she wasn't married, she was still in high school, so she should probably get an abortion. But she said that like a voice spoke to her, and said she should have this child. I used to to say to her, 'That was my voice! I was talking to you!'
"I thought that would be a cool exploration for a song, to do a song talking to a young mother from the womb, about how I could actually be prosperous in life if she just allowed me to live."
Certainly, Cannon, 24, has been prosperous. He hit the stand-up circuit at age 12, had his own show on Nickelodeon as a teen, cut a self-titled album with R. Kelly and P. Diddy, and starred in the hit movie "Drumline." He has half a dozen more movies in the works.
Cannon said as a kid he always dreamed of being a star. He'd dance and sing in front of his bedroom mirror, imagining it was a TV screen with a vast audience on the other side.
His antics also grew out of hyperactivity – he was diagnosed at an early age with ADD and was advised to pursue a career on stage as an outlet for his condition.
"I think it runs in my family," he says. "A lot of people in my family have it. Society has kind of painted a picture like it's a bad thing, but if you learn how to channel it, it can work for you."
Cannon rarely sits still. He likes to fiddle with ideas for songs, stories or stand-up routines and enjoys hanging around other creative people.
He was with Kanye West, Cristina Milian and a few others, kicking around jokes, when he decided their improvising would make a good TV show. Now MTV is airing Cannon and company in "Wild 'n Out," which he describes as his version of "Whose Line Is it Anyway?"
"Underclassman" is his take on "Beverly Hills Cop." That's one of his favorite movies, and comedian Eddie Murphy is an idol.
When "Drumline" became a hit for Miramax, Cannon pitched the studio on an idea for a "Cop" update, with him starring as a police officer who goes undercover in a posh L.A. high school. That became "Underclassman," which Cannon helped write and produce.
One of his upcoming projects is a boxing movie he's developing through mentor Will Smith, who spotted Cannon's stand-up act several years ago and has been watching out for him ever since.
"He's like my big brother," Cannon said. "Someone in the business who's been through the wars and can give me good advice about what to do, what not to do."
The birthday bunch
Comedian-actor Bob Newhart is 76. Actress Raquel Welch is 65. Singer Loudon Wainwright III is 59. Actor Michael Keaton is 54. TV personality/musician Dweezil Zappa is 36. Actress Rose McGowan is 31.
Local journalism is essential.
Give directly to The Spokesman-Review's Northwest Passages community forums series -- which helps to offset the costs of several reporter and editor positions at the newspaper -- by using the easy options below. Gifts processed in this system are not tax deductible, but are predominately used to help meet the local financial requirements needed to receive national matching-grant funds.
Subscribe to the Coronavirus newsletter
Get the day's latest Coronavirus news delivered to your inbox by subscribing to our newsletter.
---