Sports
Montoya wins Italian Grand Prix
Mon., Sept. 5, 2005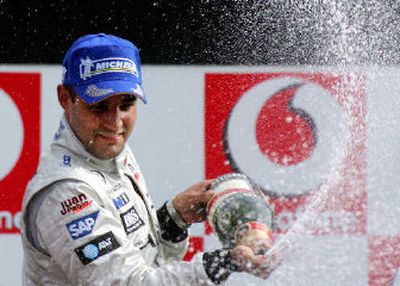 Juan Pablo Montoya's victory from the pole Sunday at the Italian Grand Prix in Monza, Italy, went almost unnoticed.
McLaren-Mercedes teammate Kimi Raikkonen grabbed most of the attention with his audacious climb from an 11th-place start to finish fourth and remain in the running for the season title.
Fernando Alonso, Raikkonen's Renault rival, finished second and increased his lead over the Finn in the drivers' standings to 27 points with four races remaining. Wins are worth 10 points each.
Alonso could clinch the title at next week's Belgian GP if he outperforms Raikkonen by a large enough margin.
"I have won there before. It could be the right place to finish the championship," said Alonso, who won an F3000 race in Belgium in 2000.
Montoya's race was mostly uneventful, although a problem developed with his rear left tire on the final laps and Alonso started gaining on him. The race finished just in time for Montoya, and the Colombian won in 1 hour, 14 minutes, 28.659 seconds.
"I controlled it in the mirror," Montoya said, referring to his deteriorating tire. "I was not afraid."
Alonso, who seemed to be paying more attention to Raikkonen behind him than Montoya in front, finished 2.4 seconds back. Teammate Giancarlo Fisichella took third at a gap of 17.9 seconds, and Raikkonen finished 22.7 seconds behind.
McLaren gained a point on Renault in the constructors' standings and trails by only eight points. Ferrari had another miserable day, gaining no points for the second straight race.
Michael Schumacher drove off the track near the end of the race and finished 10th, mathematically ending his run of five straight world titles.
NHRA
Del Worsham beat Eric Medlen in the $100,000 Skoal Showdown in the 51st annual Mac Tools U.S. Nationals at Indianapolis Raceway Park in Clermont, Ind.
Worsham, who also edged Tony Pedregon and Robert Hight in the Funny Car event, beat Medlen with a quarter-mile run of 4.866 seconds at 319.22 mph in his Chevrolet Monte Carlo. Medlen's Ford Mustang lost traction, finishing in 7.960 at 103.36.
Local journalism is essential.
Give directly to The Spokesman-Review's Northwest Passages community forums series -- which helps to offset the costs of several reporter and editor positions at the newspaper -- by using the easy options below. Gifts processed in this system are not tax deductible, but are predominately used to help meet the local financial requirements needed to receive national matching-grant funds.
Subscribe to the sports newsletter
Get the day's top sports headlines and breaking news delivered to your inbox by subscribing here.
---