News > Spokane
Parents relying on their faith
Mon., Sept. 5, 2005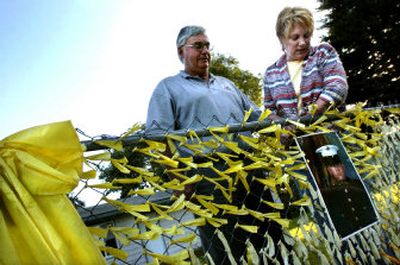 The yellow ribbons knotted to Mike and Dotty Sheahan's chain-link fence are bleaching white and the plastic tape spelling out their son's first name has seen better days.
As with many of the other war decorations scattered throughout Spokane Valley, the newness of the shrine to 20-year-old Travis Benefiel is wearing off, becoming part of the suburban landscape even as the story behind it unfolds.
This week, we look at the stories behind three war remembrances too big to be sold at a filling station or fastened to a car bumper.
Benefiel joined the Marines 15 months ago. A good kid with a knack for mechanics, he had just graduated from Central Valley High School and was eager to join a corps renowned for making good men great.
"He just talked to a recruiter at CV and wanted to enlist, but he had to wait until he turned 18," said Benefiel's stepfather, Mike Sheahan. "As soon as he graduated, he went to boot camp in San Diego."
Some folks on the other side of Cataldo Lane from the Sheahans put up the display, tying tiny yellow ribbons along a stretch of fence roughly three car lengths long. Beside the driveway, neighbors hung a laminated picture of Benefiel in his dress blues.
In the picture, Benefiel doesn't look like the teenager who, according to his stepfather, "graduated by the skin of his teeth." No, Benefiel the Marine looks at the split-level homes across Cataldo Lane with the kind of steely gaze that demands eye contact.
It's unknown if he wore that stare a few weeks ago when Lance Cpl. Benefiel narrowly escaped a car bomb, or VBIED, in Afghanistan. "VBIED" is armed-forces-speak for "Vehicle Borne Improvised Explosive Device." It's easier to say.
The VBIED that Benefiel escaped exploded on Dotty Sheahan's birthday and killed the two Marines in front of her son.
Benefiel, who used to speak of a 20-year career in the Marines, now talks about finishing his four-year term and applying his leadership skills elsewhere, perhaps to coaching.
His parents, as they've done from the beginning, pray.
"We just rely on our faith," Mike Sheahan said. "That's all we can do."
When the Iraq war started, Gail Stiltner tied giant yellow ribbons around the trees in front of her house on 44th Avenue. She had no family members involved in the war, but she has had family members in wars gone by. Her husband, Harry, fought in Vietnam; she had an uncle and cousins who fought in previous wars.
But her ribbons faded, and the homecoming symbols for no one in particular came down. Stiltner began looking for other means of remembrance and settled on miniature American flags for the veterans' graves in the rather smallish Pines Cemetery and even smaller Saltese Cemetery.
"It was amazing how many there were," Stiltner said of the headstones. "I bought 800 flags, thinking I'd have to take half of them back. But as we began, it was pretty much endless."
Accompanied by her husband and children, Stiltner planted 1,180 flags and could have planted a hundred more, had Home Depot and Wal-Mart not run out. She could have shopped around, but those stores had flags made in the United States; she couldn't bring herself to buy flags made anywhere else.
"It was quite amazing," she said. "People would ask us who we were with. They assumed we were with some service organization."
No, the family replied, just the Stiltners, who plan to be back with more flags next year.
Joe Polello, like Gail Stiltner, has no one involved in the Iraq war, but he has a flag flying at half-staff in his back yard in Trentwood for troops he hasn't met. He hopes people who drive by on North Best Road will take notice and do the same.
"I think it's time people stood up and took notice," Polello said. "The only time flags fly at half-staff is when a senator dies, but we've got a lot of guys dying over there (in Iraq), and I think the flag should go half-staff for them."
Polello, a World War II veteran, isn't a fan of the Iraq war and isn't a fan of putting its consequences in society's rearview mirror.
"When I go to work and I say, 'We lost 24 guys in Iraq yesterday,' some of the guys go 'So,' " Polello said. "They don't care anymore. They're not paying attention."
Local journalism is essential.
Give directly to The Spokesman-Review's Northwest Passages community forums series -- which helps to offset the costs of several reporter and editor positions at the newspaper -- by using the easy options below. Gifts processed in this system are not tax deductible, but are predominately used to help meet the local financial requirements needed to receive national matching-grant funds.
Subscribe to the Coronavirus newsletter
Get the day's latest Coronavirus news delivered to your inbox by subscribing to our newsletter.
---