News > Business
RAZRwire product is no small wonder
Mon., Sept. 5, 2005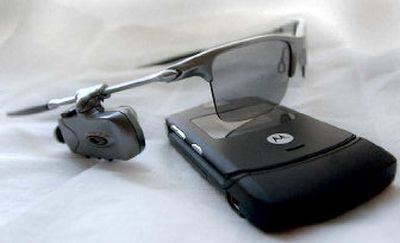 You would think pairing a wireless earpiece with Oakley sunglasses with a snappy black Motorola RAZR phone would produce big points on the geek-chic meter.
So when Cingular and Motorola released this combo a month ago, I decided to give it a try.
After three weeks, I remained a hopeless dweeb. Whenever I wore my wireless sunglasses and tried making a call, people thought I was a guy in a bad TV script, pretending to be a secret agent or something.
The technology is basic and solid. The earpiece that's attached to either ear stem of the sunglasses uses Bluetooth wireless technology to communicate with the RAZR phone. By not needing any headset or wires to stay connected, the RAZRwire user can roam up to 30 feet from the phone, talking away.
Here's how it works: The RAZRwire unit is about three inches in length with a pivot-arm earpiece-speaker that goes into either ear.
The unit clamps onto the sunglasses frame. When the phone is set to automatically detect the Bluetooth-enabled RAZRwire, all calls coming in or going out are controlled by three buttons on the RAZRwire.
The Motorola RAZR phone, by itself, is a fine piece of work, both in design and in function. And the Oakleys are fine; they're light and comfortable.
My trouble is that the RAZRwire unit, attached to the ear stem of the sunglasses, looks clunky and feels heavy; it made me self-conscious when wearing it. One person asked me if I was trying out a "hot" new hearing aid.
Shrunk by about half, it would be easier to wear. It would certainly be less conspicuous.
I also didn't feel comfortable with the three-button controls for volume, power and call switching. The buttons — all identical —should be designed so that the user knows exactly what each one does.
Still, once I figured out the unit, it worked perfectly. Listeners never complained that my voice was too low or too loud. I never had to adjust the ear-volume level either, as I often do with a regular wireless phone.
Those with the cash and the need for cool can purchase the RAZRwire at the Web sites for Motorola, Oakley, and Cingular. Cingular's Seattle office provided the loaner unit that I tested for this review.
Early adopters who don't mind getting a few stares are the people who'll fork over the cash for the RAZRwire.
Local journalism is essential.
Give directly to The Spokesman-Review's Northwest Passages community forums series -- which helps to offset the costs of several reporter and editor positions at the newspaper -- by using the easy options below. Gifts processed in this system are not tax deductible, but are predominately used to help meet the local financial requirements needed to receive national matching-grant funds.
Subscribe to the Coronavirus newsletter
Get the day's latest Coronavirus news delivered to your inbox by subscribing to our newsletter.
---