News > Pacific NW
They're royalty, but she's the boss
Mon., Sept. 5, 2005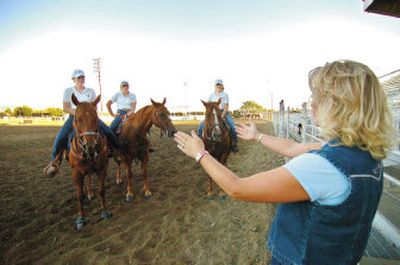 WALLA WALLA – As dirt clods shoot from horses' hooves, a haze of dust lingers in the air on a stifling August evening at the Walla Walla County Fairgrounds. Within minutes of arriving, teeth are in need of a serious brushing to displace rodeo-arena grit.
Somehow, though, Angie Brown seems fresh and relaxed, her denim clothing looking crisp and blond curls in place. A major feat for the mother – of sorts – to three teenagers, all pretty girls with lots of hair and makeup requirements. And that's not even touching on the wardrobe issues.
Yet Brown doesn't look a minute over her 34 years; her demeanor is free of anxiety, and her voice is downright calm considering she's talking over the thunder of horses racing past her mere feet away. Nonetheless, she's making herself heard.
"Kaelyn, you'll be the first coming out," Brown announces to the three teens, clustered together for the moment atop their steeds.
"As soon as she stops, let Amanda out," she calls out, in a voice bigger than her petite frame should allow.
"Keep coming, keep waving," Brown tells her girls, never taking her eyes off their form and posture.
"This is ceremonial," she explains. "The horse should fly out of there as fast as it can go, the girls waving and smiling the whole way."
Again and again, the royalty of the 2005 Walla Walla Fair and Frontier Days gallop out of three different gates at breakneck speed before circling tight to bring their mounts to a complete standstill. The waving – "it's a version of the parade wave," Brown said – isn't bad, but the smiles are a bit stiff.
It's the first night of practice, and no one is perfect. "My goal is that by Friday night of the fair, the girls and the horses will be comfortable … it will be automatic," she said.
"I've never had a girl fall off in all my years. I've been real thankful for that."
It's just one of the many things Queen Kelsey Blakemore and princesses Amanda Smith and Kaelyn Moyer will get under their rhinestone belts before the fair opens.
Indeed, Brown's job – which pulls in the standard volunteer wage of zero – is to take inexperienced high school girls and turn them into polished performers ready for any occasion.
With coaxing and coaching, as well as a bit of badgering, she prepares them for everything from public speaking to handling emergencies such as broken tack or a noncooperative horse. "They probably hate me by the first month, but they know the things I say is for the best for them."
Even if the young royals haven't reached that conclusion yet, Brown has 12 years of experience to back up her theory. Since 1993 – first for the Pioneer Posse Court in Milton-Freewater, Ore., then at the Walla Walla fair – Brown has held the official title of court adviser to each year's crop of bright-eyed royalty.
"Sometimes, I just call her 'the boss,' " noted Smith.
Brown knows she becomes a substitute mom during the year, she said. Beginning with the choosing of the court in October – the queen is finally singled out in March – to the end of the regional fair season in mid-September, Brown is with the trio for every royal occasion.
And some not so highbrow, like the riding practice of this night. It follows several hours of schmoozing with local business folks at a Chamber of Commerce "After Hours" function, and it's repetitive work with horses that seem just about as tired as their riders. She puts in "thousands" of hours in each fair season, Brown estimated. With the home support of her husband, Jim Brown, she travels with her charges to several other Northwest fairs and parades.
"You get very close with these girls," she said. Emotional and relationship issues are occasionally served up along with the main diet of makeup, hair and horses.
"We become friends. Girls from years in the past will call and ask for advice," she said. "At least one out of every group will stick with you."
It's not unusual for Brown to get invited to wedding and baby showers from past courts, she said.
Perhaps it's because she's been in their saddle. In 1984, Brown was on the Pioneer Posse Court, and was princess at 18 on the 1989 Walla Walla court.
She's hoping her 6-year-old daughter, Kaylee, will follow in her cowboy boots. Right now, the youngster can't get enough of her toy and stick horses, her mother said.
Meanwhile, back at the corral, Kelsey, Kaelyn and Amanda are still practicing. They will keep at it about an hour and a half, Brown said.
"You gotta keep those horses squared up," she hollers to the center of the arena. "No one wants to see your horse's butt.
"Keep waving, don't look down. You're in control."
There's work to be done here, Brown acknowledged. But it's all part of the job. "I want it to be as perfect as they want it to be."
Local journalism is essential.
Give directly to The Spokesman-Review's Northwest Passages community forums series -- which helps to offset the costs of several reporter and editor positions at the newspaper -- by using the easy options below. Gifts processed in this system are not tax deductible, but are predominately used to help meet the local financial requirements needed to receive national matching-grant funds.
Subscribe to the Coronavirus newsletter
Get the day's latest Coronavirus news delivered to your inbox by subscribing to our newsletter.
---