News > Spokane
Blood and cash donations are appropriate at Big Easy
Wed., Sept. 7, 2005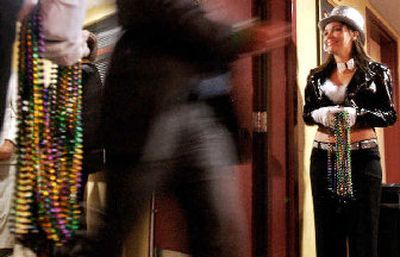 With a backdrop of Bourbon Street hanging behind the stage, musicians played into the night Tuesday while donations for Hurricane Katrina recovery stacked up at Spokane's Big Easy Concert House.
Several hundred people chatted at candlelit tables and some danced to a Latin band. Outside, an Inland Northwest Blood Center bus collected blood donations.
Some didn't even stay for the music, said general manager Greg Marchant.
"A lot of people have come, dropped money in and walked away," he said. "They just want to give."
The Big Easy is the nickname for New Orleans, so it seemed natural to host an event to raise funds for relief efforts, Marchant said. After planning the event with the Spokane Regional Chamber of Commerce, "the tough thing was deciding who couldn't play" because so many bands were vying for the honor, he said.
Several bands played in the concert house and the neighboring coffee shop. By 8 p.m., organizers had received $5,100 toward their goal of $10,000 in donations.
Erica Mostek, events coordinator for the chamber said planning started on Thursday with a brief conversation with Marchant. Since then, "It's been a scramble," she said. "But all of the businesses have been incredibly supportive."
Mark Gelhaus, director of donation and patient services for the blood bank, said donations now and in the coming weeks are necessary to keep the national blood supply at an adequate level. The blood bus took 40 pints in four hours, the most it could handle, he said.
Donations collected during the event will benefit victims of Hurricane Katrina, with a portion going to the Inland Northwest Chapter of the American Red Cross.
Marchant said he hopes to someday visit New Orleans and see the reconstruction.
"I don't have any doubt that they will rebuild the city, especially the French Quarter," Marchant said.
Local journalism is essential.
Give directly to The Spokesman-Review's Northwest Passages community forums series -- which helps to offset the costs of several reporter and editor positions at the newspaper -- by using the easy options below. Gifts processed in this system are not tax deductible, but are predominately used to help meet the local financial requirements needed to receive national matching-grant funds.
Subscribe to the Coronavirus newsletter
Get the day's latest Coronavirus news delivered to your inbox by subscribing to our newsletter.
---