News > Nation/World
Cause of stroke unanswered
Fri., Sept. 9, 2005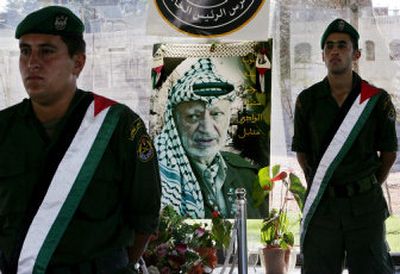 JERUSALEM – Was Yasser Arafat poisoned? Did he die of AIDS?
Newly revealed medical records cast doubt on these popular conspiracy theories about the death of the longtime Palestinian leader.
But the main question – what led to the massive stroke that killed him – may never be answered.
While Arafat's death has led to an improvement in Israeli-Palestinian relations, ongoing doubts about whether foul play killed him remain a sticking point.
Arafat, 75, died Nov. 11, 2004, in a French military hospital near Paris after a sudden rapid decline in his health. Arafat's wife, Suha, refused an autopsy, and Palestinian leaders have never given a definitive cause of death.
Two Israeli journalists obtained Arafat's medical records from a senior Palestinian official and turned over the information to the New York Times. One of the journalists, Israel Radio reporter Avi Isacharoff, then shared the records with the Associated Press, which, like the Times, put the information to medical experts.
French doctors who treated Arafat concluded he died of a "massive brain hemorrhage" after suffering intestinal inflammation, jaundice and a blood condition known as disseminated intravascular coagulation, or DIC.
But the records are inconclusive about what brought about DIC, which has numerous causes ranging from infections to colitis to liver disease.
Arafat was rushed to the Percy Military Training Hospital outside Paris after falling violently ill at his West Bank compound in Ramallah, where Israel had confined him for the last three years of his life. He had been in poor health for several years.
The French report criticized Arafat's living conditions, noting he lived "in confinement for three years" and "had no exposure to the sun during that time." One set of doctors said Arafat did not eat well and had poor hygiene.
Hospital director Dr. Jean-Paul Burlaton refused to discuss Arafat's medical records. "We did our job at the appropriate time and so we have no comment to make," he told the AP.
Since Arafat's death, rumors have swirled throughout the Middle East that Arafat died from either AIDS or poisoning. Many Palestinian officials insist that Israeli agents somehow poisoned him.
Dr. Ashraf al-Kurdi, Arafat's personal physician, asserted Arafat had the AIDS virus in his blood. "It was given to him to cover up the poison," he told the AP. Al-Kurdi, however, did not say how the AIDS virus or poison might have entered Arafat's body.
Israeli officials reject the accusations and said they hoped the records would put such assertions to rest.
The Times said poisoning was highly unlikely. It noted that toxicology studies done by the French doctors were negative and said Arafat did not suffer extensive kidney and liver damage typical of poisoning.
It also said Arafat's condition improved in the hospital and that he was able to walk and talk before slipping into a coma Nov. 3. Such improvement would make poisoning unlikely.
The newspaper cited an unidentified Israeli infectious-diseases expert as criticizing the French medical team for not testing for AIDS. But the expert said after studying the records, AIDS was unlikely due to the sudden onset of an intestinal illness.
The biggest unknown is the nature of an infection that appears to have led to the blood disorder DIC, which was never controlled and led to his death.
"The mystery around Yasser Arafat will only grow bigger and bigger after reading this report," Isacharoff said.
Local journalism is essential.
Give directly to The Spokesman-Review's Northwest Passages community forums series -- which helps to offset the costs of several reporter and editor positions at the newspaper -- by using the easy options below. Gifts processed in this system are not tax deductible, but are predominately used to help meet the local financial requirements needed to receive national matching-grant funds.
Subscribe now to get breaking news alerts in your email inbox
Get breaking news delivered to your inbox as it happens.
---