Sports
Panthers appear ready to accept their role
Fri., Sept. 9, 2005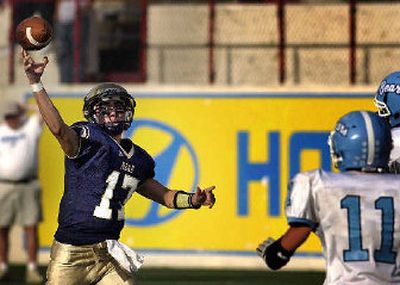 The Mead Panthers struggled with the Greater Spokane League favorite's role last season.
This year they seem to be embracing it.
At least that's the way it looked Thursday night at Albi Stadium as the Panthers began their 2005 football title quest with a 35-10 shellacking of Central Valley.
The second game of the season-opening doubleheader, which drew 2,125, saw Clarkston turn big plays into a 21-14 comeback win over North Central.
But the most dominating team on Albi's turf was Mead, as the Panthers piled up 465 yards in total offense, nearly evenly divided between rushing and passing. It's the latter that may be the biggest plus in the Panthers' column this season.
"I was nervous last year," said senior Andrew DeFelice, who is in his second season as the Mead quarterback. "I have a lot more confidence this year. I'm trying to win instead of just trying to not screw up.
"I know my teammates have more confidence in me this year, too."
They should.
DeFelice, who threw for 1,208 yards last year, most of those in the season's second half, completed 12 of 19 tosses for 238 yards and two touchdowns. The 12 completions were spread around among seven different receivers, as DeFelice often surveyed the field before finding a target.
"I just throw to whoever's open," DeFelice said. "The line did a great job holding them out and giving me time to find the open guy."
"We knew they had a big front line and, during the week, we didn't match up too well against our scout team," Mead coach Sean Carty said of the Bears. "So we decided to balance out the offense. The passing game stepped up."
The Panthers (2-0, 1-0 in GSL play) matched up well enough up front to spring Skylar Jessen free for 162 yards on 19 carries, including a 70-yard TD run on a draw up the middle. It was Jessen's second of three scores.
The Panthers, with nine players carrying the ball, finished with 227 rushing yards.
The Bears (1-1, 0-1) only had 199 total yards, as "the defensive line played pretty well against their big guys," Carty said. "They know their job is to make sure the linebackers run free. When they do that, we're tough to run against."
The Panthers' linebackers, led by Paul Senescall and Matt White, were loose most of the night and the Bears rushing attack faltered, gaining just 50 yards in the first three quarters. Mead also forced five turnovers, though three of those came in the final minutes.
CV's Zach Evans, second-team All-GSL kicker last season, connected on a 40-yard field goal just before half. He also led the Bears with 43 yards rushing.
Clarkston 21, North Central 14: The Indians' defense was stifling for most of the night but did yield four huge plays, and that was the difference.
After taking an 8-0 lead on a safety and a Shane Thomas 53-yard scoring run 2:34 before the half, the Indians gave up a 73-yard double pass from Trent Line to Sean Bernier followed by Eric Entel's 52-yard bomb to Jacob Acey on the Bantams' (1-1, 1-0) next possession. Thomas had 30 carries for 175 yards, many of those with defenders draped on him.
But NC (0-2, 0-1) rallied in the half's final 43 seconds, tying it at 14 on Thomas' 2-yard run as time ran out.
Then Clarkston's Entel made another big play, this one a 62-yard quarterback sweep around left end. Two plays later, he hit Bernier from the 14-yard line to put the Bantams up for good.
That was the final score, in large part because of an NC fumble on a punt return followed by the last huge play, a 38-yard, field-position-changing run by Kyle Beggs with less than 2 minutes left. The Bantams had 294 total yards, 225 of them coming on the four big plays.
Beggs finished with a team-high 81 yards on 16 carries.
Local journalism is essential.
Give directly to The Spokesman-Review's Northwest Passages community forums series -- which helps to offset the costs of several reporter and editor positions at the newspaper -- by using the easy options below. Gifts processed in this system are not tax deductible, but are predominately used to help meet the local financial requirements needed to receive national matching-grant funds.
Subscribe to the sports newsletter
Get the day's top sports headlines and breaking news delivered to your inbox by subscribing here.
---