News > Nation/World
Ukrainian regime fired by president
Fri., Sept. 9, 2005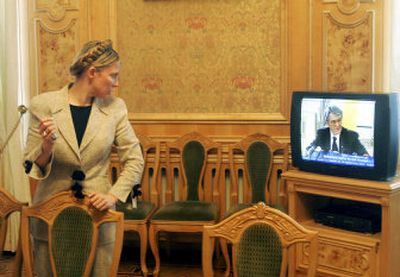 KIEV, Ukraine – President Viktor Yushchenko fired his 7-month-old government Thursday, dismissing his dynamic prime minister – the heroine of the Orange Revolution that swept him to power – and accepting the resignation of one of the movement's top financial backers.
The government breakup, amid allegations of corruption, deepened a crisis that has diminished the popularity of the man whose dioxin poisoning and defiant stand against election fraud seized the world's attention last year.
It also left Yushchenko looking isolated, especially in contrast to the broad coalition that joined in the mass protests on Independence Square that many Ukrainians saw as a fresh start for their country.
"We've stepped away from the goals of the revolution," the president told the Ukrainian people, saying he had to act against his friends for the sake of the nation. He accused Cabinet members of focusing more on infighting than running the country of 48 million.
"I could not pretend that nothing was happening. Not for this did I survive a poisoning. Not for this did people stand on the square. I had to take radical steps," said Yushchenko.
But the dissolution of the government led by charismatic Prime Minister Yulia Tymoshenko and acceptance of tycoon Petro Poroshenko's resignation from the powerful Security and Defense Council came at a dangerous time. Parliamentary elections are six months away, and Yushchenko must win to cement his political gains.
Instead, he could face a strong challenge from Tymoshenko, whose personal style, combining up-to-the-minute couture with a traditional blond braid ringing her head, made her a highly telegenic symbol during the demonstrations late last year.
She has since chafed at having to stifle her more radical impulses in the interests of keeping Yushchenko's team together, and her popularity – reflected by the chants of "Yulia!" that often drowned out Yushchenko's speeches – has not diminished.
"The thing that the president did today can only be called a betrayal," said Valentyn Zubov, who speaks on behalf of Tymoshenko's parliamentary faction.
Local journalism is essential.
Give directly to The Spokesman-Review's Northwest Passages community forums series -- which helps to offset the costs of several reporter and editor positions at the newspaper -- by using the easy options below. Gifts processed in this system are not tax deductible, but are predominately used to help meet the local financial requirements needed to receive national matching-grant funds.
Subscribe now to get breaking news alerts in your email inbox
Get breaking news delivered to your inbox as it happens.
---