News > Nation/World
Veto threat delays moving same-sex bill
Fri., Sept. 9, 2005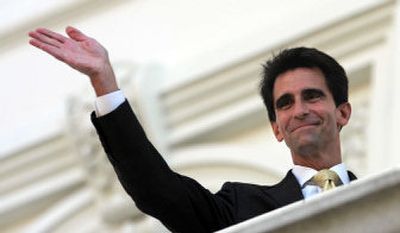 SAN JOSE, Calif. – Gov. Arnold Schwarzenegger's vow to veto a landmark same-sex marriage proposal this week – saying it violated the will of the people – has prompted the bill's authors to delay delivering the bill to the governor to give gay rights advocates two weeks to bombard him with calls, e-mails and protests in a last-ditch effort to win support.
"The governor has said he supports the will of the people," said Sen. Sheila Kuehl, Santa Monica Democrat, one of the Legislature's six openly gay members. "Well, let the people call him, let the people e-mail him, let the people be heard. Then he can say he's following the will of the people."
Less than 24 hours after the bill was approved, Schwarzenegger's press secretary issued a statement that the governor would veto it.
His press secretary, Margita Thompson, said the governor has consistently said he believed voters had spoken when they approved Proposition 22 in 2000 that defined marriage as between a man and a woman. Schwarzenegger had come to believe that approving same-sex marriage went against voters' desires, she said.
Assemblyman Mark Leno, the San Francisco Democrat who authored the bill, dismissed that explanation. Stunned by the announcement, Leno on Thursday blasted Schwarzenegger's decision as a shrewd political move to protect right-wing support for his Nov. 8 special election initiatives.
Local journalism is essential.
Give directly to The Spokesman-Review's Northwest Passages community forums series -- which helps to offset the costs of several reporter and editor positions at the newspaper -- by using the easy options below. Gifts processed in this system are not tax deductible, but are predominately used to help meet the local financial requirements needed to receive national matching-grant funds.
Subscribe now to get breaking news alerts in your email inbox
Get breaking news delivered to your inbox as it happens.
---