News > Nation/World
At last, signs of hope
Sun., Sept. 11, 2005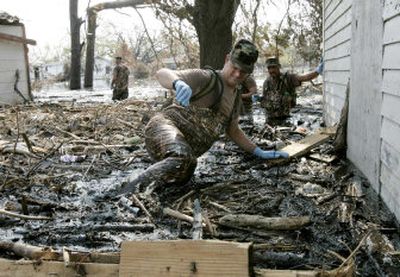 NEW OREANS – After almost two weeks of relentless tragedy, federal officials offered the city a glimmer of hope Saturday, saying that flooded parts of the city and nearby areas would be pumped dry in 37 days, less time than the 80 days that originally was estimated.
Local officials said that some residents of nearby Plaquemines Parish could return to their homes by this morning, and that the airport that serves New Orleans was scheduled to reopen Tuesday.
In Mississippi, where Hurricane Katrina also raked the coast, power was restored to nearly 98 percent of residents. And Houston officials announced that the 7,327 people remaining in the Astrodome and other temporary facilities would be moved to more permanent housing by Saturday. Despite the encouraging news, the search for bodies continued. Rescue teams scoured flooded areas looking for survivors. And political debate intensified over the federal government's slow response to Hurricane Katrina.
President Bush, in his weekly radio address, and Vice President Dick Cheney, touring disaster relief centers in Austin, Texas, avoided discussion of Friday's decision to remove Michael D. Brown, director of the Federal Emergency Management Agency, as head of the hurricane recovery effort.
Bush sounded a positive theme in his address, linking the nation's compassionate response to hurricane victims with its aid to those who suffered in the Sept. 11, 2001, terrorist attacks. "Our greatest resource in such times is the compassionate character of the American people," he said. "America will overcome this ordeal and we will be stronger for it."
At the Austin Convention Center Shelter, Cheney praised the resilience of evacuees, and congratulated state officials who announced that the number of people staying overnight in temporary facilities such as the Astrodome was steadily dwindling.
The vice president ignored about two dozen demonstrators who were demanding that the White House fire Brown as head of FEMA. Although he declined to discuss the issue, Cheney said that Homeland Security Secretary Michael Chertoff "made those decisions and I certainly support him."
But former Rep. Tim Roemer of Indiana, a former member of the 9/11 Commission, said on CNN that America had "failed" its first major post-9/11 response to a disaster. The Democratic congressman said that several key recommendations made by the commission to prepare America for future disasters had not been put into effect by the White House.
The confirmed death toll in Louisiana stood at 154, and in Mississippi the toll was 211. The federal government said Saturday that it would allow the news media to have access to recovery operations in areas affected by Hurricane Katrina, a day after the top military official overseeing the federal relief efforts had announced that reporters would not be allowed to watch the recovery of bodies.
On Friday, Army Lt. Gen. Russel Honore told reporters that there would be "zero access" to the recovery operation, prompting CNN to file a lawsuit in federal court. U.S. District Court Judge Keith Ellison in Houston granted the cable news network a temporary restraining order Friday evening.
At a court hearing Saturday morning, assistant U.S. attorney Edward Wyatt told the judge that officials from FEMA, the Department of Justice and the military had consulted in late-night conference calls and decided to alter their policy.
In a sign of optimism in the battered region, engineers were pumping water from flooded areas at a good pace, and estimates of the time needed to "dewater" areas have decreased sharply, Dan Hitchings, director of regional business for the U.S. Army Corps of Engineers, said in Baton Rouge.
Standing water is expected to be gone from much of New Orleans by Oct. 2, and from east New Orleans and Chalmette on Oct. 8. The longest drainage process will take place in Plaquemines Parish, southeast of the city, which is expected to be dry by Oct. 18. At the end of pumping efforts, "there will be small pockets of wetness," he said.
The timetable has been speeded up because more pumps were being used to remove water, Hitchings said. As of Friday, he noted, the city had 35 permanent pumps back in action, out of 148 total, plus 39 portable pumps.
Most of the water being pumped out goes into Lake Ponchartrain, Hitchings said.
In nearby Plaquemines Parish, a narrow, 100-mile-long strip of land that stretches to the Gulf of Mexico, officials said some residents would be allowed to return to their homes this morning.
Sixty percent of the parish, however, is still under water, authorities estimated. The parish remains under a 7 p.m.-to-6 a.m. curfew.
Residents may return only to homes and businesses in the Belle Chasse area, site of the parish government seat, said Emily Campbell, one of two parish engineers. Campbell said residents would not be allowed past the Alliance Refinery on the southern outskirts of Belle Chasse.
The parish permitted the return because the Belle Chasse area, which did not suffer serious damage during the hurricane or floods, has power and running water.
Returning residents may stay as long as they like, but must bring their own food and supplies, Campbell said, adding: "We hope people come back and restart their lives, and that business owners get supply lines established and we can rebuild our community."
Only several thousand of the parish's 28,000 residents will be allowed to return. An estimated 15,000 to 20,000 were evacuated from areas that were devastated by the storm. Eleven towns and villages were left completely underwater after water from the Mississippi River and the Gulf of Mexico washed over and through protective levees on both sides of the narrow parish.
Campbell said FEMA and the Red Cross did not arrive in the area until several days after the flooding, and were just beginning to offer assistance.
"If we wait for the federal government to get anything done, we'll have a long wait," Campbell said. "We've been pushing ahead on our own all along."
In New Orleans, officials said a dwindling number of people needed to be evacuated. State and National Guard officials said they were taking weapons from people who were evacuated and were not forcing anyone from their homes.
Meanwhile, officials announced that Louis Armstrong New Orleans International Airport would reopen about 8 a.m. Tuesday with as many as 30 flights departing.
The airport was closed the afternoon of Aug. 28, suffering about $55 million in damages.
Local journalism is essential.
Give directly to The Spokesman-Review's Northwest Passages community forums series -- which helps to offset the costs of several reporter and editor positions at the newspaper -- by using the easy options below. Gifts processed in this system are not tax deductible, but are predominately used to help meet the local financial requirements needed to receive national matching-grant funds.
Subscribe to the Coronavirus newsletter
Get the day's latest Coronavirus news delivered to your inbox by subscribing to our newsletter.
---