Sports
Ducks romp past Grizzlies
Sun., Sept. 11, 2005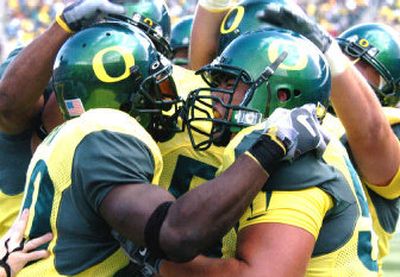 Kellen Clemens threw for 275 yards, and Paul Martinez tied a school record with six field goals as Oregon rolled to a 47-14 win over Division I-AA Montana on Saturday in Eugene, Ore.
Demetrius Williams had five catches for 93 yards and a touchdown, and nine other Ducks caught passes, but Oregon failed to establish a running game for the second straight week.
Terrence Whitehead, a 1,000-yard rusher in 2004, had just 35 yards on 18 carries, after running for 31 yards in a win over Houston last week. The Ducks (2-0) finished with just 87 yards on the ground.
The Grizzlies (1-1) stayed close early but weren't consistent enough on offense.
Bowling Green transfer Jason Washington completed 10 of 23 passes for 85 yards for Montana, which beat Fort Lewis 55-0 last week and is ranked third in Division I-AA. Tailback Lex Hilliard had just 15 yards on 13 carries.
The Ducks improved to 10-1 in home openers under head coach Mike Bellotti, who tied Len Casanova for second on the school's all-time wins list with his 82nd victory.
Martinez, a junior who shared time at kicker last year, has 11 field goals in Oregon's first two games. The Ducks had only nine field goals all of last year.
Oregon State 30, Boise St. 27
Alexis Serna kicked a 29-yard field goal with 1:03 to go and the Beavers (2-0) came from behind to beat the Broncos (0-2) in Corvallis, Ore.
The Broncos had a 24-14 lead early in the second half, but the Beavers evened it at 27-all early in the fourth quarter when Mike Hass caught a 22-yard scoring pass from Matt Moore.
Serna's third field goal of the day proved to be the winner when the Broncos could not get anything going in the final minute. Boise State, which was ranked in preseason polls, lost its opener to Georgia.
There were periodic downpours and a first-half hail storm that was so heavy it sent cheerleaders scurrying for cover. For a time, the field even appeared to have a dusting of snow, but it was pea-sized hail.
Moore completed 27 of 38 passes for 279 yards. Hass had 11 catches for 178 yards.
The Broncos had only three losses in their previous 42 games and were ranked coming into a season for the first time since moving up to Division I-A in 1996.
Jared Zabransky completed 19 of 36 passes for 233 yards and three touchdowns. The Broncos, who also lost to Louisville in their final game last season, had not lost three in a row since 1997.
Stanford 41, Navy 38
The Cardinal won their opener under head coach Walt Harris, using a fine performance by quarterback Trent Edwards to outlast the Midshipmen (0-2) in Annapolis, Md.
Harris, who spent the past eight years at Pittsburgh, is seeking to turn around a program coming off three straight losing seasons. The Cardinal lost their last five games in 2004, but are 1-0 under Harris because of Edwards, who went 21 for 33 for 235 yards and a touchdown.
T.J. Rushing returned a kickoff 93 yards for a score to help Stanford turn back Navy in the first meeting between the teams since 1965.
Stanford played the second half without star receiver Evan Moore, who hurt his leg while being tackled late in the second quarter and was taken to a hospital for X-rays.
Moore finished with three catches for 66 yards and a touchdown.
Marco Nelson scored three touchdowns for the Midshipmen and Karlos Whittaker ran for 110 yards on seven carries, becoming the first freshman in Navy history to have a 100-yard rushing game.
UCLA 63, Rice 21
Drew Olson threw for three touchdowns and Maurice Drew scored twice to help UCLA open a big early lead, and the Bruins (2-0) went on to a victory over the Owls (0-1) in Pasadena, Calif.
The Bruins scored the first seven times they had the ball – including Drew's 66-yard punt return for a touchdown – to pull out to a 49-14 lead by halftime.
Rice, losing its season opener and seventh game in a row dating back to last year, couldn't stop the Bruins' versatile offense. UCLA had 299 yards in the first quarter, and had amassed 408 yards by halftime before going mostly with reserves in the second half.
Olson and Drew each went to the sidelines after playing the first series of the third quarter, which also was the first time in the game the Bruins had to punt.
Olson finished 18 of 25 for 296 yards, with no interceptions. He threw scoring strikes of 39 and 10 yards to Junior Taylor, and connected with Brandon Breazell for an 11-yard touchdown.
Arizona 31 , N. Arizona 12
Richard Kovalcheck tied a career high with 255 passing yards and Mike Bell added 122 on the ground as host the Wildcats (1-1) defeated the I-AA Lumberjacks (1-1) in Tucson, Ariz.
Kovalcheck completed 19 of 31 passes, including two touchdowns. He also tossed for 255 yards in a 27-24 loss to Utah last week.
The Wildcats finished with 187 rushing yards, spearheaded by Bell's 24-carry effort. Arizona took the opening kickoff and moved the ball 80 yards in just less than 2 minutes before reaching the end zone. Bell capped the drive with a 3-yard touchdown.
Nick Folk gave Arizona a 10-0 advantage with a 33-yard field goal later in the quarter. The Wildcats grabbed a commanding advantage when Richard Kovalcheck found Anthony Johnson for a 25-yard strike to make it 17-0.
Northern Arizona put an end to the shutout midway through the second quarter when Robbie DeHaze connected on a field goal from 45 yards out.
Kovalcheck answered by lofting a 9-yard scoring pass to Brad Wood for a 24-3 lead.
Local journalism is essential.
Give directly to The Spokesman-Review's Northwest Passages community forums series -- which helps to offset the costs of several reporter and editor positions at the newspaper -- by using the easy options below. Gifts processed in this system are not tax deductible, but are predominately used to help meet the local financial requirements needed to receive national matching-grant funds.
Subscribe to the sports newsletter
Get the day's top sports headlines and breaking news delivered to your inbox by subscribing here.
---