Sports
Irish beat No. 3 Wolverines, put Weis in Rockne's company
Sun., Sept. 11, 2005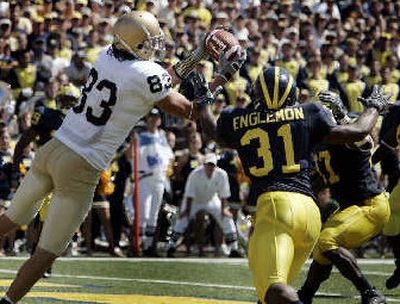 A mere two games into his coaching career at Notre Dame, Charlie Weis has joined Knute Rockne in the record books – and has his team playing like the Fighting Irish of old.
Brady Quinn threw two touchdown passes in the first half and the 20th-ranked Fighting Irish held on to beat No. 3 Michigan 17-10 Saturday in Ann Arbor, Mich., making Weis the first Notre Dame coach to win his first two games on the road since Rockne in 1918.
Notre Dame (2-0), which won at then-No. 23 Pittsburgh last week, snapped the Wolverines' 16-game winning streak at Michigan Stadium and handed them their first loss against a nonconference team at home since 1998. The Irish – two years removed from losing 38-0 in Ann Arbor – also won at Michigan for the first time since 1993.
Michigan (1-1) squandered several chances in the fourth quarter to pull within a touchdown before finally capitalizing on their third opportunity.
On a fourth-and-3, Chad Henne lofted a 25-yard pass to Mario Manningham with 3:47 left to make it 17-10.
The Wolverines then forced Notre Dame to punt, but four incomplete passes later, the Irish were celebrating on the sideline.
(7) Virginia Tech 45, Duke 0
Marcus Vick threw three touchdown passes and the Hokies (2-0, 2-0 Atlantic Coast Conference) turned in a dominating defensive performance to beat the Blue Devils (0-2, 0-1) in Durham, N.C.
Roland Minor returned an interception for a touchdown for the Hokies, who remained unbeaten on the road in the league since joining last season.
Iowa St. 23, (8) Iowa 3
LaMarcus Hicks returned an interception 28 yards for a touchdown and the Cyclones (2-0) capitalized on turnovers for all their points to stun the Hawkeyes (1-1) in Ames, Iowa.
Iowa State came up with an inspired effort on defense a week after struggling in a 32-21 victory over Division I-AA Illinois State, recovering three fumbles, intercepting two passes and getting three sacks.
(9) Georgia 17, South Carolina 15
Thomas Brown scored on a 5-yard run with 11 1/2 minutes to go, South Carolina failed to convert a 2-point conversion and the Bulldogs (2-0, 1-0 Southeastern Conference) held on for a victory over the Gamecocks (1-1, 0-1) in Athens, Ga.
Clinging to a 10-9 lead, Georgia finally wore down the Gamecocks with its running game. Quarterback D.J. Shockley scampered 14 yards, Danny Ware broke off a 16-yard gain and Thomas Brown did the rest. The sophomore carried five times for 33 yards on the drive, capped by his TD with 11:24 left.
(10) Florida 41, Louisiana Tech 3
DeShawn Wynn ran 16 times for a career-high 101 yards and scored three touchdowns to lead the Gators (2-0) to a victory over the Bulldogs (0-1) in Gainesville, Fla.
Florida quarterback Chris Leak threw just eight passes in the first half but connected with Chad Jackson on an 80-yard score in the third quarter. Leak also ran for two second-half scores.
(11) Florida St. 62, The Citadel 10
Drew Weatherford bounced back after struggling in his first collegiate start to throw for 342 yards and two touchdowns as the Seminoles (2-0) defeated the Division I-AA Bulldogs (1-1) in Tallahassee, Fla.
Trailing 10-3 with just over a minute left in the half, Florida State scored 45 straight points, including five third-quarter touchdowns, to take control of the game.
(13) Purdue 49, Akron 24
Jerod Void ran for 101 yards and a score, and Dustin Keller caught two touchdown passes to lead the Boilermakers (1-0) over the Zips (0-1) in West Lafayette, Ind.
New starter Brandon Kirsch ran the offense effectively, completing 22 of 34 passes for 252 yards and two touchdowns for the Boilermakers, who had 267 yards passing and rushed for 211.
(17) Georgia Tech 27, North Carolina 21
Reggie Ball threw for two touchdowns and a career-high 320 yards, including eight passes for 131 yards to Damarius Bilbo, as the Yellowjackets (2-0, 1-0 ACC) held off the Tar Heels (0-1, 0-1) in Atlanta.
After North Carolina pulled to within six points late in the fourth quarter, the Tar Heels stopped Tech on three plays and took possession at its 41 with 2:51 left to play. Tech's Dennis Davis intercepted a long pass from Matt Baker near the goal line to end the threat.
(18) Oklahoma 31, Tulsa 15
Adrian Peterson ran for 220 yards and three touchdowns and made Oklahoma's passing game unnecessary as the Sooners (1-1) avoided a second stunning loss by beating the Golden Hurricane (0-2) in Norman, Okla.
With new starter Rhett Bomar struggling at quarterback, Oklahoma didn't even attempt a pass in the second half. The Sooners' recipe for success was to give the ball to Peterson.
(19) Boston College 44, Army 7
Will Blackmon ran across the field and turned the corner for a 41-yard touchdown in the second quarter and the Eagles (2-0) beat the Black Knights (0-1) in Boston.
Quinton Porter was 15 for 20 for 206 yards and two touchdowns for Boston College.
(21) Texas Tech 56, Florida International 3
Cody Hodges threw for 454 yards and four touchdowns and ran for another to lead the Red Raiders (1-0) past the Golden Panthers (0-2) in Lubbock, Texas.
Hodges' favorite receiver was Robert Johnson, who caught nine passes for 129 yards and a touchdown.
SMU 21, (22) TCU 10
DeMyron Martin ran for two touchdowns and caught a 22-yard touchdown pass, leading the Mustangs (1-1) past the Horned Frogs (1-1) in Dallas.
SMU hadn't beaten a ranked team since Oct. 11, 1986.
(25) Clemson 28, Maryland 24
Reggie Merriweather scored his second touchdown on a 38-yard run with 2:58 remaining, capping a furious fourth-quarter rally that carried the Tigers (2-0, 1-0 ACC) past the Terrapins (1-1, 0-1) in College Park, Md.
Local journalism is essential.
Give directly to The Spokesman-Review's Northwest Passages community forums series -- which helps to offset the costs of several reporter and editor positions at the newspaper -- by using the easy options below. Gifts processed in this system are not tax deductible, but are predominately used to help meet the local financial requirements needed to receive national matching-grant funds.
Subscribe to the sports newsletter
Get the day's top sports headlines and breaking news delivered to your inbox by subscribing here.
---