News > Nation/World
Japanese voters weighing Koizumi's bold agenda
Sun., Sept. 11, 2005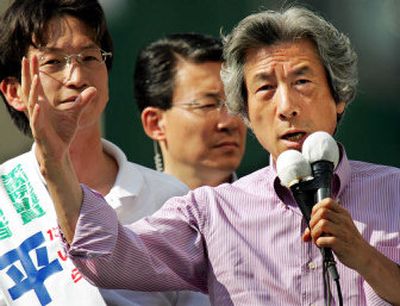 TOKYO – It sounds like mission impossible: Take the developed world's longest-ruling political party, one weighed down by a history of corruption, waste and patronage, and turn it into a symbol of dynamic change.
Japanese voters decide today whether Prime Minister Junichiro Koizumi has accomplished that task for his Liberal Democratic Party during elections for the 480 seats in the powerful lower house of Parliament.
The balloting caps a dramatic campaign that has broken new ground in postwar Japanese history, heralding the emergence of media-driven image politics and a sharper focus on policy, in this case Koizumi's quest to privatize the cash-rich postal service as part of economic reforms.
"I want to hear the people's opinion," Koizumi howled into a clutch of microphones at a campaign stop at a Tokyo train station Saturday. "Please vote for candidates who support postal privatization!"
Media polls suggested that was what voters would do. Some surveys indicated the LDP, which has ruled for almost all of the past 50 years, would strengthen its majority.
Candidates battled down to the final minutes of the campaign Saturday. On the outskirts of Tokyo, Koizumi's main rival, Katsuya Okada, leader of the Democratic Party of Japan, argued that the country has more pressing concerns than the postal service, such as the strained pension system and burgeoning government debt.
"Japan faces problems of decreasing population, an aging society and increasing national debts," Okada said. "Mr. Koizumi sounds as if life will be all rosy if the postal service is privatized, but no one takes what he says seriously."
Koizumi, however, has skillfully dominated the agenda during the campaign with his plan to put the postal service's $3 trillion in assets into private hands as a way to make the money available for investment in Japan's struggling economy.
When his pet project to split up and sell off Japan Post's mail, insurance and savings services was torpedoed by parliament's upper house Aug. 8, he dissolved the lower house and called early elections, saying the ballot would be a referendum on reform.
Since then the bachelor prime minister has kept voters riveted by purging 37 anti-reform lawmakers from his party. He drafted celebrity candidates, including a TV chef and an Internet mogul, to run as "assassins" against his enemies.
The drama has fascinated a country long accustomed to candidate lists full of LDP backroom wheeler-dealers whose only competition came from a splintered and ineffectual leftist opposition.
The party's image had sunk so low that when Koizumi took the reins in 2001 the LDP was widely considered a spent force that would collapse once a viable opposition emerged. Now he is seen as one of the most dynamic Japanese political personalities of the postwar era.
"He's accomplished the impossible," said Gerald Curtis, an expert in Japanese politics at Columbia University in New York. "He's turned the DPJ … into a party that's against change, and he's turned LDP, a party that's resisted (change), into the symbol of reform."
Koizumi's gambit has given Japan's famously conservative voters the chance to vote for reform while not having to go with an untested opposition.
Local journalism is essential.
Give directly to The Spokesman-Review's Northwest Passages community forums series -- which helps to offset the costs of several reporter and editor positions at the newspaper -- by using the easy options below. Gifts processed in this system are not tax deductible, but are predominately used to help meet the local financial requirements needed to receive national matching-grant funds.
Subscribe to the Coronavirus newsletter
Get the day's latest Coronavirus news delivered to your inbox by subscribing to our newsletter.
---