News > Idaho
Powerful racing boats stirring lake uproar
Sun., Sept. 11, 2005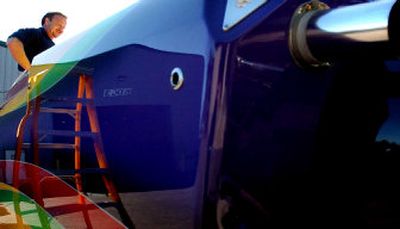 Lake Coeur d'Alene has a new species – offshore racing boats that clock up to 150 mph and roar loud enough to vibrate pictures off the wall of waterfront homes.
Just in the last year, the loud, sleek powerboats made for ocean racing have become a common sight on this freshwater lake where the speed limit is 50 mph.
It's a trend that's perplexing Kootenai County Sheriff's marine deputies, who don't know how to deal with the boats' speed and noise or the numerous complaints from waterfront property owners and boaters. Deputies get at least six calls a week with complaints about these Cigarette-type boats. Some people have reported up to five boats at a time racing up and down the lake.
"One guy who called was so angry he wanted the operator arrested," Sgt. Matt Street said. "He lives on the main channel by Arrow Point, and the boats vibrate his house and windows so bad that things fall off the walls."
Street thinks there are about 15 offshore racing boats that frequent the lake and expects the numbers to increase with the number of wealthy people moving into the area. The boats can cost up to $250,000 – more than what many people pay for a home.
The marine deputies are snapping photos of each of the boats and logging the owners' names so at least they have some kind of reference tool when people make complaints.
Because these boats – with two or three modified engines running on high-octane racing fuel – go so fast, it's nearly impossible for marine deputies to pull them over or track them down once a complaint is made. And it's difficult for deputies to measure the decibels and ticket the owners for having boats that break noise laws.
"We are simply just responding and putting out fires," Street said. "It's difficult to be proactive."
Coeur d'Alene native Grant Forest owns one of the fastest boats on the lake – a 36-foot 2005 Eliminator that was built to set a speed record but was never tested. On Arizona's Lake Havasu the boat clocked at 150 mph, but Forest thinks it could go more than 190 mph – and that's without the nitrous boosters.
Yet he swears he never goes that fast on Lake Coeur d'Alene and instead uses it as a pleasure boat, giving rides to the top customers at Forest Steel. Well, there was the one time he showed a woman she could drink a martini at 100 mph without spilling a drop.
"It rides really smooth – like a Cadillac," Forest said last week while showing off the boat that he's never named. The red, yellow, purple and green body shimmered in the sunlight and the chrome engines, each with 1,500 horsepower, glowed. The normal passenger car has 250 horsepower.
When asked why one would own an offshore racing boat on a freshwater lake with a speed limit of 50 mph, Forest grinned.
"It's a guy thing," he said. "You just need to know you have it."
But Forest realizes the danger with the boats and thinks the sheriff's deputies have every reason for concern.
"I believe they are going to have to crack down on the situation," Forest said. "It only takes one to cause a problem."
He knows the boats leave a "real bad taste" with a lot of local people, especially fishermen. Forest encourages his fellow offshore race boaters to play responsibly so the boats aren't heavily regulated or eventually banned.
Mary Damiano has enjoyed boating on Lake Coeur d'Alene for more than 30 years but is considering selling the family's boat after it was almost capsized last summer by a large ocean-going cruiser.
"It was scary to have a wall of water hit you," Damiano said, recalling the July 2004 incident that left her grandchildren crying for hours. She's not necessarily concerned about the loud race boats; she is more worried by boats with deep hulls that create a large wave of water as they cruise at slow speeds.
Damiano has become an outspoken opponent, lobbying against the proposed expansion of the Blackwell Island Marina to allow for larger boats. She wants stricter laws on the size of boats on Lake Coeur d'Alene.
"They need to get some real strong rules," she said.
The boats on the lake are getting larger, especially with skyrocketing waterfront property prices.
John Barlow, of Hagadone Corp., which wants to expand Blackwell Island, said people are buying cabin cruisers and yachts and using them as summer cabins because it's less expensive than land. Many never leave the marina, he said.
Street said he believes the cabin cruisers aren't the problem – they've been on the lake for years. His concern is the offshore racing boats. To him, noise is almost more of a concern than speed.
He remembers Forest driving past in his distinctive boat earlier this summer. "It was deafening, and he was just at an idle," Street said.
Jim Aucutt, an avid boater and chairman of the Kootenai County Waterways Committee, said the racing boats stop all conversation when they pass his house on the Spokane River.
"It's really, really loud even when they aren't speeding," Aucutt said, adding that the waterways committee isn't sure what to do about the problem either.
"We've had some discussion, and we've heard a lot of complaints. But at this point we don't have any idea what to do," he said.
Local journalism is essential.
Give directly to The Spokesman-Review's Northwest Passages community forums series -- which helps to offset the costs of several reporter and editor positions at the newspaper -- by using the easy options below. Gifts processed in this system are not tax deductible, but are predominately used to help meet the local financial requirements needed to receive national matching-grant funds.
Subscribe to the Coronavirus newsletter
Get the day's latest Coronavirus news delivered to your inbox by subscribing to our newsletter.
---