Sports
Spartans' fast start too much for Hawaii
Sun., Sept. 11, 2005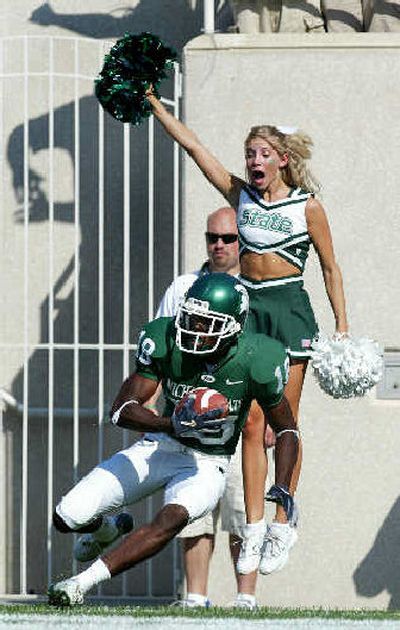 Drew Stanton completed 21 of 26 passes for 301 yards and three touchdowns Saturday as Michigan State defeated Hawaii 42-14 in East Lansing, Mich.
The Spartans (2-0) had 499 yards of offense against the Warriors (0-2), who made their first road trip to the Eastern time zone since 1975.
Hawaii, which traveled more than 4,000 miles for this game, has lost its last six road openers.
The Spartans scored touchdowns on their first four possessions to take a 28-0 lead midway through the second quarter. Stanton was 10 of 13 for 182 yards and two touchdowns on the four drives, and Javon Ringer had scoring runs of 41 and 8 yards.
Michigan State scored 35 straight points before Hawaii quarterback Colt Brennan connected with Davone Bess on a 3-yard touchdown pass late in the third quarter.
Illinois 40, San Jose St. 19
Tim Brasic, Pierre Thomas and E.B. Halsey scored first-quarter touchdowns as the Fighting Illini (2-0) erased an early deficit and beat the Spartans (1-1) in Champaign, Ill.
Thomas' touchdown was set up by a 27-yard interception return by Remond Willis.
A week after allowing 517 yards to Rutgers, Illinois held the Spartans to just 15 rushing and 231 total on the way to a 2-0 record for the first time since its Big Ten championship season in 2001. The Illini also stopped San Jose five times from inside the 2, including throwing Spartans running back Yonus Davis for a 4-yard loss on fourth down in the second quarter.
Brasic also ran 25 yards for a score in the third quarter and completed 17 of 22 passes for 199 yards before giving way to backup Chris Pazan. Jason Reda kicked field goals of 26, 33, 21 and 45 yards for Illinois, which led 37-7 after three quarters.
Utah 31, Utah St. 7
Brian Johnson passed for 268 yards and threw two touchdown passes to John Madsen, and the Utes (2-0) increased their winning streak to 18 with a victory over the Aggies (0-1) in Salt Lake City.
Quinton Ganther ran for 104 yards on 15 carries for his second 100-yard game of the season and the Utes (2-0) won the state rivalry for the eighth straight time.
Utah remained unbeaten under new coach Kyle Whittingham and held Utah State to 258 total yards. The Aggies were playing their first game under coach Brent Guy and started five freshman.
The Utes flustered Utah State quarterback Leon Jackson III in his first start and the Aggies had a woeful night on special teams. A fumbled punt set up one touchdown for the Utes and a punt that sailed into the first row behind the Utah bench set up another.
(24) Fresno St. 55, Weber St. 17
Clifton Smith made two long punt returns for touchdowns, Wendell Mathis rushed for three scores and the Bulldogs (1-0) opened a much-anticipated season with a victory over the Division I-AA Wildcats (1-1) in Fresno, Calif.
Paul Pinegar went 14 of 18 for 189 yards and two TDs in his 25th victory as a starter, leading Fresno State to a 42-3 lead before halftime.
While Weber State didn't provide one of Fresno State's usual early-season non-conference tests, the Bulldogs won their seventh straight game with an offense that looks just as powerful as most expected.
But the victory might be costly for Fresno State's defense: Garrett McIntyre, a star defensive lineman and the preseason WAC defensive player of the year, was taken to the locker room on a cart after apparently injuring his leg on the last play of the third quarter.
Colorado 39, New Mexico St. 0
Lawrence Vickers scored three touchdowns and the Buffaloes (2-0) thumped the Aggies (0-2) in Boulder, Colo.
Joel Klatt threw for 186 yards and two scores before being pulled in the third quarter. Vickers ran for two touchdowns and caught another for the Buffs, who take a week off before getting a much more stringent test, at No. 14 Miami.
The Aggies, under first-year coach Hal Mumme, were no threat to Colorado, even with the pass-happy offense that had Buffs coach Gary Barnett worrying all week.
New Mexico State quarterback Royal Gill finished 17 for 30 for 176 yards. The Aggies managed only 20 yards and one first down in the first half as Colorado took a 22-0 lead.
Local journalism is essential.
Give directly to The Spokesman-Review's Northwest Passages community forums series -- which helps to offset the costs of several reporter and editor positions at the newspaper -- by using the easy options below. Gifts processed in this system are not tax deductible, but are predominately used to help meet the local financial requirements needed to receive national matching-grant funds.
Subscribe to the sports newsletter
Get the day's top sports headlines and breaking news delivered to your inbox by subscribing here.
---