News > Nation/World
With pullout nearly done, Palestinians fix eye on Gaza
Sun., Sept. 11, 2005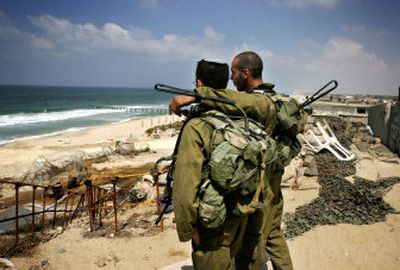 KHAN YOUNIS, Gaza Strip – When the last Israeli soldiers rumble out of the Gaza Strip this week and hand land they have occupied for nearly four decades over to the Palestinians, Basem Shurrab will be ready with ideas, plans and blueprints.
The head of planning for the city of Khan Younis is preparing to transform the longtime Israeli enclaves into the building blocks for a Palestinian state.
"We have a lot of dreams," says Shurrab, whose city has lived uneasily for years next to the largest Israeli settlements that cut Palestinian residents off from the nearby coast.
Come this week, Shurrab may have a chance to make his dreams – and those of the other 1.3 million Palestinians in the Gaza Strip – a reality.
Today, Israel's Cabinet is expected to give final approval to pull the last soldiers out of the Gaza Strip. The Israeli army is already making plans to lower the nation's flag by sundown and transfer official control over to the Palestinians.
The ceremonies could be temporarily delayed by an eleventh-hour dispute over whether to demolish the settlement synagogues. But Israel's high court has given the government permission to tear down the religious sites, and the issue could be resolved quickly.
Success in transforming the former Israeli settlements into an economic engine could determine whether the depressed region can become the kernel of a self-sustaining, independent Palestinian state living side by side with Israel.
"Gaza certainly has real economic potential," said Nigel Roberts, director of the West Bank and Gaza Strip projects for the World Bank.
While Israeli forces were pulling thousands of recalcitrant settlers and supporters from Jewish enclaves last month, Shurrab and other Palestinians were finalizing plans for the vacated land – nearly one-fifth of the densely populated Gaza Strip, which is about twice the size of Washington, D.C.
Palestinians want to transform the isolated Israeli settlement of Netzarim outside Gaza City into the hub for a new seaport. They plan to use $100 million of outside money to build a massive apartment complex overlooking the Mediterranean south of Khan Younis. Shurrab wants to build enough housing – 200,000 units – to more than double the size of Khan Younis itself.
And there's talk of a new seaside tourist getaway on the dunes of Gush Katif, Israel's biggest settlement bloc and a regular target of mortar attacks.
The plans still depend largely on talks with the Israelis, who control Gaza's all-important links to the outside world, and negotiations to open the borders are sluggish.
Israel is also hesitant to allow the Palestinians unfettered access to the air and sea because of security concerns about planes striking Tel Aviv or boats smuggling weapons into the region.
"With all the crossing points in and out of Gaza, you can theoretically open them all up and close them two days later if terrorists come into Israel and launch suicide bombings," said Mark Regev, a spokesman for Israel's foreign minister, explaining hesitation about even a trial border opening. "What good have you accomplished? You don't go back to square one; you go back to square minus one."
Without some agreement on this issue, said the World Bank's Roberts, it might be impossible for the Palestinians to rejuvenate the economy.
"Unless today's closure regime is dismantled, there is very little prospect for Palestinian economic recovery," he said.
Israelis and Palestinians are trading ideas on how to link the Gaza Strip with the West Bank and how to make it easier for Palestinians and goods to flow between the two regions about 30 miles apart.
The other key element for success is security. The Israeli military isn't even gone yet and already Palestinian factions are jostling for power and position. Islamic militants are looking to build on their strong grass-roots power base and challenge moderate Palestinian Authority President Mahmoud Abbas.
Powerful local families have been exerting power by staging short-term kidnappings of international aid workers. Just last week, a militant group assassinated a security aide to Abbas four blocks from the president's home.
Local journalism is essential.
Give directly to The Spokesman-Review's Northwest Passages community forums series -- which helps to offset the costs of several reporter and editor positions at the newspaper -- by using the easy options below. Gifts processed in this system are not tax deductible, but are predominately used to help meet the local financial requirements needed to receive national matching-grant funds.
Subscribe to the Coronavirus newsletter
Get the day's latest Coronavirus news delivered to your inbox by subscribing to our newsletter.
---