News > Nation/World
As Israeli rule ends, Palestinians storm in
Mon., Sept. 12, 2005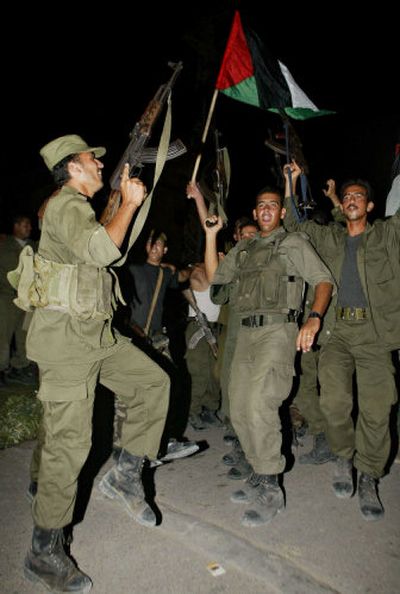 NETZARIM, Gaza — Hundreds of Palestinians stormed into this former Israeli settlement early today and set its major buildings on fire, only hours after Israeli forces officially ended their 38-year military rule.
First to go was the settlement's former synagogue, the interior quickly torn apart by the crowd and its roof festooned with the banners of the Fatah and Hamas Palestinian organizations. Then the building was set on fire.
"I want to destroy everything here as they did the Al Aqsa mosque," said Mahmoud Malahi, who told a reporter he had lost a leg to an Israeli tank when he was 15. "I want to destroy everything here. It's a symbol of occupation. Destroying it is a symbol of Islam."
Palestinian security forces made no effort to intervene.
The settlement was the nearest former Israeli stronghold to Gaza City, and Palestinians streamed into it only hours after Israeli forces lowered their flags in Gaza and streamed out.
Gunfire could be heard throughout the settlement as Palestinians fell upon the former synagogue whose holy scriptures had been removed. The crowds besieged other major buildings; it appeared likely that all the buildings would be demolished.
Palestinians also entered other former settlements shortly after Israel officially ended its military rule of the 1.3 million residents of the Gaza Strip. It was not immediately known if similar scenes of destruction were being played out elsewhere.
The unresolved dispute over when and how Palestinians can enter and leave Gaza threatens to become the first major post-settlement shutdown crisis, said Diana Buttu, a legal adviser with the Palestinian Authority.
The handover was also clouded when Israel's Cabinet put an eleventh-hour halt to court-approved plans to demolish 26 synagogues in the Gaza Strip and asked Palestinian officials to respect and preserve the former houses of worship. But Toufiq Abu Khossa, a spokesman for the Palestinian Interior Ministry said the Palestinian Authority planned to demolish synagogues and all other public buildings left behind.
It was not clear whether today's early morning violence was the result of that decision.
The ceremonial lowering of the Israeli flag just before sunset Sunday marked the last official act of the nation's military control of the Gaza Strip, a densely populated area about twice the size of Washington, D.C.
Local journalism is essential.
Give directly to The Spokesman-Review's Northwest Passages community forums series -- which helps to offset the costs of several reporter and editor positions at the newspaper -- by using the easy options below. Gifts processed in this system are not tax deductible, but are predominately used to help meet the local financial requirements needed to receive national matching-grant funds.
Subscribe now to get breaking news alerts in your email inbox
Get breaking news delivered to your inbox as it happens.
---