Sports
Calcavecchia's four-year winless streak comes to an end
Mon., Sept. 12, 2005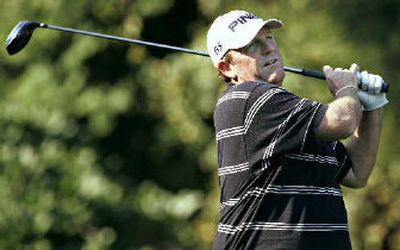 Mark Calcavecchia thought his best days on a golf course had slipped away.
His performance at the Canadian Open proved he was wrong.
Calcavecchia battled his putter in the final round and made just one birdie on the weekend, but ended a four-year winless streak by closing with a 1-over 71 Sunday for a one-stroke victory in Vancouver, B.C.
"I've got to admit I never thought I'd win again, let alone on a golf course like this, in a tournament this big," the 45-year-old Calcavecchia said after becoming the tournament's oldest winner.
The 1989 British Open champion, who picked up his 12th career victory, had not won on tour win since the 2001 Phoenix Open, and his on-and-off struggles with the putter had eroded much of his confidence.
"I have my moments where I'm pretty good (but) as I said the other day, I have a lot of self doubt and a lot of demons that float around inside of my head," he said.
Calcavecchia, whose only birdie since the second round came at the 475-yard, par-4 fifth on Sunday, had a 5-under 275 total, the highest winning score for a full-field, non-major PGA Tour event this year.
Ben Crane closed with a 66, and 2004 U.S. Amateur champion Ryan Moore had a 70 to finish tied for second.
Calcavecchia ended any chance of a playoff by sticking his second shot at No. 18 within 6 feet of the pin and then lagged the putt to within tap-in range.
"I felt like it was a 36-hole day," Calcavecchia said. "Thank God we ran out of holes. I saved my best drive and my best iron for the last hole and knew I could two-putt from 6 feet. How embarrassing to lag from 6 feet."
European Tour
Retief Goosen missed a 5-foot par putt on the 18th hole, but escaped with a one-stroke victory in the German Masters in Pulheim, Germany, his third title in six weeks.
The two-time U.S. Open champion led by two shots entering the last hole and closed with a 5-under 67 to finish at 20-under 268.
Henrik Stenson (68), Jose Maria Olazabal (66), Nick Dougherty (68) and David Lynn (67) all finished at 269 in the $3.8 million tournament.
Goosen sent his tee shot into the brush on the 18th. The South African was forced to take a drop and blasted an excellent 150-yard shot from the rough, but he failed to make the putt and was left with a bogey.
"I hit a 9-iron perfectly to get close to the hole, then unfortunately hit the par putt a little too hard," he said.
Stenson and Dougherty, playing behind him, had a chance to catch him but parred the final hole.
Goosen earned $629,00 for his 12th title on the European Tour.
Asian Tour
Australia's Adam Scott shot a 6-under-par 65 to coast to a seven-stroke victory in the Singapore Open.
Scott took the lead after completing the rain-interrupted third round Sunday morning. He then made five birdies and an eagle against one bogey in the final round to finish at 13-under 271 in the Asian Tour event.
Amateur
Darin Newhouse had a 71 at The Honors Course in Chattanooga, Tenn., to finish stroke play with a 6-under-par 138 for a two-shot lead over Raymond Floyd Jr. at the 25th U.S. Mid-Amateur golf championship.
Newhouse, 32, from Tyler, Texas, made four birdies – including three in a four-hole stretch – to earn the top seed in the match-play portion of the USGA event for amateurs 25 and older.
"Kerry Postillion had a 2-under 70 to earn medal honors after 36 holes of stroke play in the U.S. Women's Mid-Amateur Championship in Richmond, Texas.
The reinstated amateur from Illinois was the only player to finish the first two rounds under par at 2-under 142. Postillion, who retired as a professional in 1993 and was runner-up at this event in 1996, will be the top seed in the match-play portion.
Local journalism is essential.
Give directly to The Spokesman-Review's Northwest Passages community forums series -- which helps to offset the costs of several reporter and editor positions at the newspaper -- by using the easy options below. Gifts processed in this system are not tax deductible, but are predominately used to help meet the local financial requirements needed to receive national matching-grant funds.
Subscribe to the sports newsletter
Get the day's top sports headlines and breaking news delivered to your inbox by subscribing here.
---