News > Idaho
Dalai Lama urges peace before Idaho audience
Mon., Sept. 12, 2005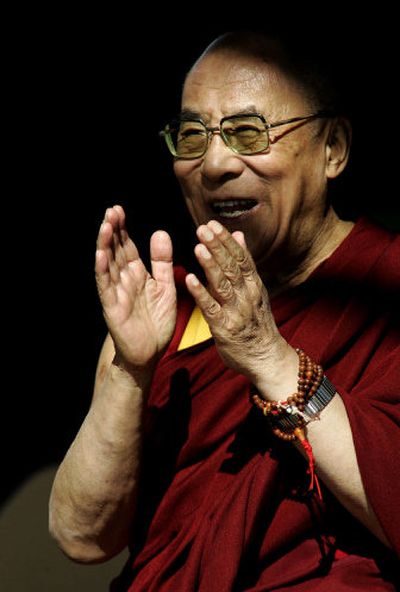 HAILEY, Idaho – With his amplified words bouncing off the mountains surrounding Sun Valley, the Dalai Lama told a crowd of about 10,000 people Sunday to fight violence with peace and poverty with compassion.
The wide-ranging address by the spiritual leader of Tibetan Buddhists touched on the Chinese occupation of his homeland, the fourth anniversary of the Sept. 11 terror attacks and Gulf Coast hurricane destruction.
The Dalai Lama brought the crowd to giggles with his mix of one-liners and a look of good-natured surprise.
The 1989 Nobel Peace Prize winner – for his advocacy of nonviolent resistance to China's occupation of Tibet, from which he's been exiled since 1959 – urged victims of the Sept. 11 attacks and Hurricane Katrina to turn their tragedies into something that makes them stronger.
"Your sadness, your anger will not solve the problem," the 70-year-old monk said. "More sadness, more frustration only brings more suffering for yourself."
The speech was televised live on CNN.
As he condemned violence, the Dalai Lama acknowledged conflicted feelings over the U.S. invasion of Iraq, telling reporters at a news conference following his hour-long address that "history would decide."
His speech came on a day when many Americans were reflecting on the terrorist attacks of Sept. 11, 2001, and on the intervening four years in which nearly 1,900 American troops have died in Iraq and more in Afghanistan. In Washington, D.C., an estimated 15,000 people marched from the Pentagon, site of one of the 9-11 suicide attacks, to the National Mall in support of more than 100,000 troops abroad.
"Violence is unpredictable," said the Dalai Lama, who has won support from the Bush administration, including Secretary of State Condoleeza Rice, for his campaign to restore Tibetan political autonomy. "In the case of Afghanistan, perhaps there's something positive. In Iraq, it's too early to tell."
The Dalai Lama came to Idaho at the invitation of wealthy financial consultant and Buddhist Kiril Sokoloff, who has raised thousands of dollars for Tibetan schoolchildren.
The visit cost Sokoloff a reported $1 million and included an army of 200 lime-green-clad local volunteers, dozens of professional security officers in yellow T-shirts, and U.S. State Department bodyguards.
Three more days of events were planned in Sun Valley, including an invitation-only address this morning to business and financial professionals. At 2 p.m. today, he's due to speak to thousands of Idaho schoolchildren at a gathering organized by Gov. Dirk Kempthorne.
Asked why he brought the Dalai Lama to Sun Valley, Sokoloff said he relied on knowledge from the financial world – his Boca Raton, Fla.-based company, 13D Research, publishes a stock-market newsletter – to determine the timing was right.
"I've had a powerful vision for the past two years that we are at a pivotal moment in history," Sokoloff told the crowd. "The Dalai Lama has joined us for one specific reason: To show us the way to the tipping point for global compassion."
Much of the audience seemed to agree, as they interrupted the speech by the Dalai Lama – the title means "Ocean of Wisdom" – with polite and frequent applause.
His advice to residents of Idaho's wealthiest region: "Even if you have 100 diamonds, you still only have 10 fingers."
Local journalism is essential.
Give directly to The Spokesman-Review's Northwest Passages community forums series -- which helps to offset the costs of several reporter and editor positions at the newspaper -- by using the easy options below. Gifts processed in this system are not tax deductible, but are predominately used to help meet the local financial requirements needed to receive national matching-grant funds.
Subscribe now to get breaking news alerts in your email inbox
Get breaking news delivered to your inbox as it happens.
---