News > Business
Northwest talks break down again
Mon., Sept. 12, 2005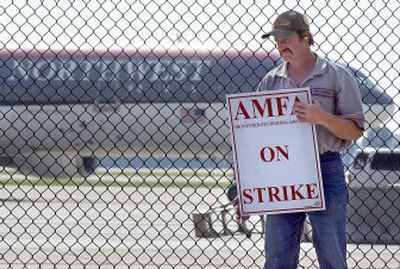 DETROIT – After three days of negotiations between Northwest Airlines Inc. and its mechanics union, talks broke down Sunday over severance pay, prompting the union to leave the bargaining table with no deal and no more talks scheduled.
Barring a last-minute settlement, Northwest plans to start hiring permanent replacement mechanics Tuesday.
That deadline, combined with the breakdown of negotiations, could further erode the union's position in the 3-week-old strike, labor experts say.
So far, Northwest has been able to maintain its operations with few noticeable disruptions. But now the airline faces the task of maintaining what some experts say is a successful but fragile operation with replacement workers.
With the threat of bankruptcy lingering, Northwest says it must extract even more concessions from its unions to avoid filing for Chapter 11 protection from creditors.
If the failed negotiations with the Aircraft Mechanics Fraternal Association are any indication, that could be difficult.
In a note to members, mechanics union negotiators said talks fell apart on the issue of severance pay for the union's 3,181 mechanics, custodians and plane cleaners who wouldn't return to their jobs under the airline's latest proposal.
In all, the Eagan, Minn.-based airline asked the union to give up $203 million annually by eliminating more than 70 percent of its work force – a deal that asks for more than what the union had rejected more than three weeks ago when it went on strike against the nation's fourth-largest airline.
"Our first inclination was to pack our bags and depart for our home stations," union negotiator Jeff Mathews wrote to members Sunday.
But the union stayed and met the airline's demand to keep 1,080 mechanics in Detroit, Minneapolis and Duluth, Minn., eliminating 3,181 union jobs. The talks, however, fell apart when Northwest wouldn't bump up the period for severance pay from 16 weeks to 20 weeks, Mathews wrote.
"Northwest was unwilling to offer a severance package that we felt met the very minimal level that we needed to adequately compensate those who would be denied a position," Mathews told members.
In the end, the gap between Northwest and the union on Sunday morning consisted of four weeks and $10 million, according to the union.
Given Northwest's offer Thursday – which asked for $27 million more in concessions compared with its proposal before the strike – it is unlikely that the union could have convinced the airline to back off from major job cuts.
For the union to go back to members with something close to or worse than the offer they went on strike against would have been a tough sell.
But the airline's threat to start hiring permanent replacement mechanics Tuesday gave the union less time to reach a deal.
And the impact of Hurricane Katrina – driving up jet fuel prices – strengthened Northwest's leverage for deeper cuts.
Local journalism is essential.
Give directly to The Spokesman-Review's Northwest Passages community forums series -- which helps to offset the costs of several reporter and editor positions at the newspaper -- by using the easy options below. Gifts processed in this system are not tax deductible, but are predominately used to help meet the local financial requirements needed to receive national matching-grant funds.
Subscribe now to get breaking news alerts in your email inbox
Get breaking news delivered to your inbox as it happens.
---