Sports
Seattle hands one to Jacksonville
Mon., Sept. 12, 2005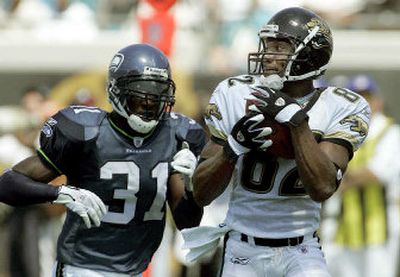 JACKSONVILLE, Fla. – The Seattle Seahawks hoped to give the winning game ball to their ailing defensive coordinator. Instead, they kept donating footballs to the Jacksonville Jaguars.
The Seahawks suffered five turnovers while forcing none during a 26-14 loss Sunday at Alltel Stadium. Only the margin of defeat remained in question after Matt Hasselbeck tossed his third and final interception with more than six minutes remaining.
"It's ironic because protecting the ball was my No. 1 priority going into the game," Hasselbeck said after Seattle fell to 3-4 in season openers under coach Mike Holmgren. "The last interception, I had in my mind to throw it away."
The Seahawks trailed, 20-14, when Hasselbeck and the offense stepped onto the field with 6:29 remaining. Seattle's defense had allowed 59 yards and no points on the Jaguars' previous three drives. The offense was 85 yards from the go-ahead touchdown.
A victory would have allowed the Seahawks to reward their defensive leader; coordinator Ray Rhodes did not travel with the team to Jacksonville after suffering dizzy spells last week.
Hasselbeck dropped back to pass on first down. A defender was in his face immediately. Hasselbeck threw toward the right sideline. Tight end Jerramy Stevens and running back Shaun Alexander were covered. Jaguars linebacker Daryl Smith picked off the pass.
Hasselbeck walked off the field. He did not speak with Holmgren on his way to the bench area. There was nothing to say.
"My only eligible receivers were on that side of the field and I didn't have enough on the ball," Hasselbeck said later.
Perhaps the unrelenting sun and 87-degree heat had taken a little off Hasselbeck's fastball. Getting pounded by opposing linemen and linebackers probably contributed as well. The Jaguars collected only two sacks, but they hit Hasselbeck early and often.
"I don't think we executed very well," Holmgren said. "I thought we didn't protect the passer very well. We had a couple of mental breakdowns on one of the fumbles in the two-minute drill.
"We got a little careless. Physically, I thought the guys held up pretty well."
Seattle's defense, seeking to improve upon a No. 26 ranking last season, held up better against the run than might have been expected. The Jaguars averaged 3.8 yards per carry and their leading rusher, veteran Fred Taylor, managed a long run of nine yards.
But with Jaguars receiver Jimmy Smith running free through the secondary, Seattle found itself vulnerable to the big pass play. Smith finished with seven receptions for 130 yards and two touchdowns.
Recent questions about Smith's age – he turned 36 in February – seemed a bit misplaced.
"Jimmy will get old when guys start covering him by themselves," Jaguars quarterback Byron Leftwich said, "and that hasn't happened since I have been here."
Sometimes it seemed as though the Seahawks didn't cover Smith at all. But their shortcomings in pass coverage were not decisive.
Five turnovers were.
"Any time you get five turnovers and don't have any yourself, it's pretty tough not to get it done," Jaguars coach Jack Del Rio said.
Seattle needed only eight seconds to hand over its first.
Running back Josh Scobey was returning the opening kickoff past the Seattle 36-yard-line when the Jaguars' Alvin Pearman knocked the ball free. Rashean Mathis recovered for the Jaguars, who followed with the first of four field goals by Josh Scobee.
Seattle's Scobey did not alter the spelling of his name following the turnover. Jacksonville's Scobee is a second-year kicker from Louisiana Tech; Seattle's Scobey is a fourth-year running back from Kansas State.
The Jaguars' kicker was busy because Seattle's defense, nearly unrecognizable with seven new starters for 2005, kept forcing Jacksonville to settle for field goals.
"I think our defense actually played well enough for us to win," said Alexander, whose 36-yard run set up Seattle's final touchdown, "and our offense didn't help them out at all. We turned it over way too much."
Improved communication might have helped the defense function more cohesively and effectively.
Rookie middle linebacker Lofa Tatupu made the calls on the field. There seemed to be fewer obvious cases of miscommunication than in the past.
"If you are looking for silver linings, I think that went pretty darn well," defensive end Grant Wistrom said. "It was a much better job of getting our checks out there on defense than we had all of last year."
The Jaguars appeared to dominate both lines of scrimmage early. But Seattle actually led, 7-6, after Hasselbeck found Joe Jurevicius uncovered in the end zone on the first play of the second quarter.
Hasselbeck did it again just before halftime, finding Darrell Jackson for a 9-yard score and a 14-13 lead.
The Jaguars regained control with a 12-play, 78-yard scoring drive to open the second half. Smith's second touchdown, a 7-yarder despite tight coverage from Marcus Trufant, put Jacksonville ahead to stay.
Local journalism is essential.
Give directly to The Spokesman-Review's Northwest Passages community forums series -- which helps to offset the costs of several reporter and editor positions at the newspaper -- by using the easy options below. Gifts processed in this system are not tax deductible, but are predominately used to help meet the local financial requirements needed to receive national matching-grant funds.
Subscribe to the sports newsletter
Get the day's top sports headlines and breaking news delivered to your inbox by subscribing here.
---