News > Spokane
Thieves gouging gas lines to tap fuel from cars, trucks
Mon., Sept. 12, 2005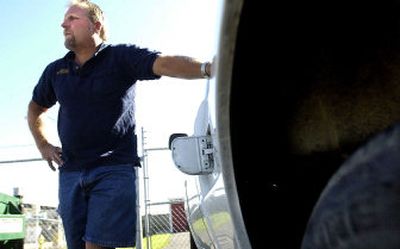 As fast as the $3-a-gallon gas was going into Judy Nixon's delivery truck last Tuesday it was dribbling all over the ground. She could hear it, smell it as the cool liquid made contact with the warm pavement beneath her Mazda pickup and quickly evaporated.
She had a hole in her gas line, or so she thought. Nixon called her boss at Motion Auto Supply, Jeff Keen, who instructed her to drive on empty until they got the problem fixed. Their in-house mechanic caught wind of the matter and diagnosed the problem without even getting on his back.
"He said, 'it's been cut. Someone did the same thing on the North Side,'" Keen said.
And not only cut, but bandaged back together in a manner that would allow a midnight surgeon to pull back the dressing nightly and let the hole weep $30 or $40 of fuel into a gas can.
It took several weeks of record-high fuel prices, but last week, Spokane Valley finally began seeing the underbelly of its car culture, vehicles altered so they can be tapped for sustenance again and again like bleeding cows, brisk sales of after-market locking gas caps and rumors of sleepless meth addicts conspiring to tap a Montana to Spokane petroleum pipeline for easy fuel.
Recently some local convenience stores were adding a twist to their longstanding rule that customers prepay for fuel if they're filling up at the pumps farthest from the store and closest to the street to prevent gas drive-offs. Now customers at the pumps closest to the store and within full view of the cashier would be required to pony up before fueling.
Friday, Dave Wyrick, a Spokane County Sheriff's spokesman, said he hadn't heard of the altered gas lines at Motion Auto, but he wasn't surprised. Crime statistics for Spokane County and Spokane Valley will be mapped in a couple weeks, at which time Wyrick said law enforcement will be able to track any trends in the gas thefts.
Keen said he has heard of one other person walking into a local auto parts store and asking for a replacement fuel hose.
It's not often that a car's fuel hose goes out and few stores keep a big stock, he said. Motion had to replace two hoses in Spokane Valley in addition to the one on the North Side. The damage puts the brakes on a business, for which time is everything.
There's an all-hands-on-deck feel to the Motion Auto office, where clerks spend the entire day with a phone pinched between their ears and shoulders. If ever there was an evolutionary impulse for a third human hand, this could be the pool from which one crawls. Here lie all the ingredients, the manic strain of adaptability, endangered survivability and dim fluorescent lighting.
On the front wall is a marker board with the names of six drivers spelled out in a frantic scrawl, their destinations hanging beneath them like airport departure times. In two weeks, Motion Auto's four Spokane area stores go through $5,000 worth of gas even without the $3 a gallon price. Each parts runner travels 100 to 150 miles daily. In Spokane Valley, those miles are logged between the Interstate 90-Freya Road overpass and the rural crossroads of Otis Orchards.
Keen wonders out loud about how long his store will be able to deliver parts without raising its rates to match gas prices, or how many replacement hoses he'll need if the gas thefts continue. It wouldn't take too many thefts and lost hours to make the business' profits evaporate and if that happens, it will smell like gasoline.
Local journalism is essential.
Give directly to The Spokesman-Review's Northwest Passages community forums series -- which helps to offset the costs of several reporter and editor positions at the newspaper -- by using the easy options below. Gifts processed in this system are not tax deductible, but are predominately used to help meet the local financial requirements needed to receive national matching-grant funds.
Subscribe now to get breaking news alerts in your email inbox
Get breaking news delivered to your inbox as it happens.
---