News > Idaho
White sees UI rebirth after pain of University Place
Mon., Sept. 12, 2005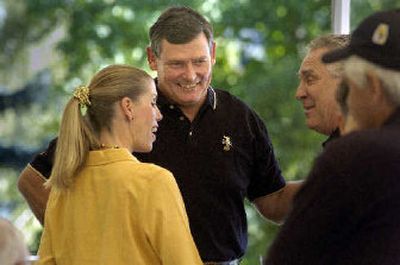 MOSCOW, Idaho – The cuts have been made.
More than 250 jobs in three years. Seven degree programs.
"We're doing less with less," says University of Idaho President Timothy White.
And yet White, who is beginning his second year at the helm, says the university is poised to flourish, with its financial crisis in hand and a streamlined organization.
Now that the pain of the fallout from University Place is less acute, he foresees a five-year plan for gathering new ideas about how UI can creatively meet its mission.
"It is a renaissance that is happening," he said in an interview in his office in late August. "I see all the pieces of that renaissance. It's kind of fun. It's exciting."
But it hasn't been painless. The UI cut $4.75 million to balance its current budget and is eliminating a doctoral program in geophysics, master's programs in English literature and educational technology, and bachelor's programs in office administration, school and community health, and entomology. In the three years since the project imploded, donations to the school's fund-raising foundation have plummeted.
And there is the immeasurable fallout, as well. The problems surrounding University Place damaged the school's image and lowered morale among some faculty members – described in a Federation of Teachers report as "underpaid, demoralized and disgusted."
"I think Tim White has a big job on his hands," said Brian Pitcher, the former UI provost and interim president who is now chancellor at Washington State University's Spokane campus. "He's very capable … but he really has been put in a very, very difficult situation." White says a lot of the hardest part is past, as the school cut programs that were only "one or two steps away" from the school's core mission.
"It took some courage to do that," White said. "Took some discipline."
But he said the university is again on solid financial footing, with a balanced general fund and a surplus of between 5 percent and 10 percent going forward into the next year.
"It is an amazing privilege to be the president of the University of Idaho," White said. "I don't need any pity. I love challenges."
Challenge
White worked as a dean and provost at Oregon State University before coming to the UI in 2004. It was two years after Bob Hoover resigned, citing the breakdown of University Place as a key reason. Retired Albertson's CEO Gary Michael had come in, helped develop a plan for getting the UI out of debt and cut 200 positions.
The financing surrounding University Place was just one problem at the time. Some university departments had been running a debt for a decade or more. State funding – always falling short in higher education – and approval for raising student fees sometimes just didn't materialize.
"The environment we were in when I got here was one of overspending," White said. "To balance the budget we had to take some things out."
The administration proposed the latest round of cuts earlier this year after a statistical analysis of the school's 176 degree programs and following a 2004 task force that helped set priorities. Nearly 500 faculty members took part, and the process included comment period and other ways of making the decision-making transparent, White said.
Among the results of this process is a definition of the university's five "academic themes" – science and technology, liberal arts and sciences, entrepreneurial innovation, the environment and natural resources, and sustainable design and lifestyle – and a process for ensuring that money is invested in those themes.
The cuts have been difficult, and have drawn some criticism on campus, as has the process the university used to arrive at its decisions.
But Bob Zemetra, chairman of the UI Faculty Council, said that most of the initial shock has worn off. While faculty may still have some misgivings, the university's financial problems left it little choice but to take drastic steps.
"I think they kind of did what they could," he said. "They didn't have a lot of options."
One change that has drawn an organized, ongoing protest goes back to Hoover's decision to merge the College of Art and Architecture into the College of Arts, Letters and Social Sciences.
Alumni and other supporters have petitioned the university and the state to restore the college, and they'll do so again at a Board of Education meeting in October. Students demonstrated on the administration lawn earlier this week.
White said that though the administrative structure of a college had been cut, the classes, students and degrees provided through the college have not gone away. He said that it can cost half-million dollars or so to run a full college, and the school is trying to save on those kinds of costs while keeping programs available for students.White said he cannot imagine the college can be restored and doesn't think there is merit to the claims of misfeasance in the decision to close it.
"It's going to be very hard to go back and unscramble the egg," he said
Salary crisis
Among the upcoming challenges for the university, White ranks salaries among the most urgent.
Salaries at all levels have been static for four years. Professors make, on average, $71,800, or 73 percent of the national average for public universities that grant doctorates, according to the American Association of University Professors. Salaries for other positions lag similarly.
White says that UI, with bigger, better-paying Washington State lurking just across the border, has an even greater challenge keeping faculty. He's asked for an 8 percent raise in the upcoming budget, though he acknowledges the likelihood of getting that amount from lawmakers is slim.
Still, he said, more is needed. "The compensation of technical staff and faculty is approaching crisis proportions," he said.
The Federation of Teachers, which produces an annual salary report, was sharply critical of UI's pace of salary increases for administrators compared to instructors. The report said administrative salaries had increased 79 percent since 1995 – compared with 47 percent for faculty – and noted that White's salary of $270,000 is more than a 100 percent increase over the president's salary in 1995.
A large part of that increase comes from a supplemental payment White receives from the foundation.
Meanwhile, there are roughly 100 fewer faculty members than eight years ago, the report says.
Zemetra said he's encouraged that White is seeking more money for salaries and is waiting to see how the proposal plays among lawmakers in Boise. "The question now is, how far will it go," he said.
Other issues besides salary lay ahead for the university – a backlog of maintenance work, for example. But White's optimistic that the university's regaining its feet and beginning to move forward again.
In his office, which overlooks the spreading lawn in front of the Administration Building, he keeps a carved wooden elephant on a glass case. The figure, which he brought back from Thailand, is a symbol to him of the way he must approach his responsibilities as president of such a large organization.
"People will come in and want to argue the tail, make a case for the ear, tell me how important the trunk is," he said, "but my job as president is to think about the whole enterprise. The whole organism."
Local journalism is essential.
Give directly to The Spokesman-Review's Northwest Passages community forums series -- which helps to offset the costs of several reporter and editor positions at the newspaper -- by using the easy options below. Gifts processed in this system are not tax deductible, but are predominately used to help meet the local financial requirements needed to receive national matching-grant funds.
Subscribe now to get breaking news alerts in your email inbox
Get breaking news delivered to your inbox as it happens.
---