News > Features
Almond pesto meets salmon
Wed., Sept. 14, 2005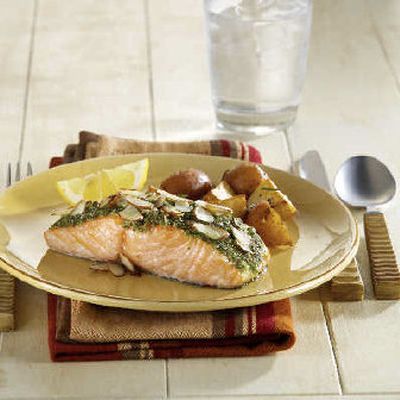 Salmon fillets get a double dose of crunchy almonds, one in the pesto and one in the topping, in this recipe for a low-fat dish.
The flavorful pesto is easy to make, and its fresh green color provides a nice contrast to the vibrant orange of the salmon. For a quick, attractive finish, scatter the almonds over the surface, as the recipe indicates. If you prefer a fancier presentation, after spreading the pesto over the salmon, slightly overlap the almonds on the fillets to resemble fish scales, then bake as directed.
Note that cilantro may be used in the pesto, as an alternative to the more traditional basil. The recipe developer decided to suggest the cilantro as something a bit different, pointing out that cilantro, too, has a unique flavor that makes for a great pesto.
The recipe was developed for the American Heart Association's Choose To Move program for women, which the association describes as a free 12-week program to help busy women increase physical activity and build healthy habits to lower their risk for heart disease and stroke. Find information about Choose To Move at www.americanheart.org/ctm.
Salmon with Almond Pesto
Recipe from the American Heart Association
Vegetable oil spray (optional)
1/2 cup loosely packed fresh cilantro or fresh basil
3 tablespoons fat-free, low-sodium chicken broth
2 tablespoons plus 1/4 cup sliced almonds
2 tablespoons shredded or grated Parmesan cheese
1 teaspoon salt-free garlic-herb seasoning blend
4 salmon fillets (about 4 ounces each)
Preheat the oven to 400 degrees. Line a baking sheet with aluminum foil or lightly spray with vegetable oil spray.
In a food processor or blender, process the cilantro or basil, chicken broth, 2 tablespoons almonds, cheese and herb blend for 15 to 20 seconds, or until slightly chunky.
Place the fillets about 2 inches apart on the baking sheet. Spread the pesto evenly over the top of the fillets. Sprinkle with 1/4 cup almonds. Bake for 10 to 12 minutes, or until the fish flakes easily when tested with a fork.
Yield: 4 servings.
Nutrition information per serving (3 ounces fish and 1 tablespoon pesto): 206 calories, 9.5 grams fat (1.5 grams saturated, 42 percent fat calories), 2 grams carbohydrate, 66 milligrams cholesterol, 1 gram dietary fiber, 129 milligram sodium.
Local journalism is essential.
Give directly to The Spokesman-Review's Northwest Passages community forums series -- which helps to offset the costs of several reporter and editor positions at the newspaper -- by using the easy options below. Gifts processed in this system are not tax deductible, but are predominately used to help meet the local financial requirements needed to receive national matching-grant funds.
Subscribe now to get breaking news alerts in your email inbox
Get breaking news delivered to your inbox as it happens.
---