News > Features
Caesar dressing with sesame oil gives duck salad Asian twist
Wed., Sept. 14, 2005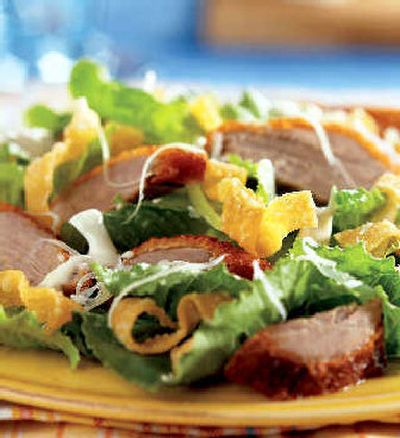 Duck may have a special place in poultry cuisine, but don't let its stylish image be an obstacle. Duck can be easy to cook at home, is great on the grill, and can be the main ingredient in lean but tasty dishes.
In this recipe, what works the simple magic is a combination of just the right details: Salad is given an Asian twist by mixing prepared Caesar dressing with a bit of aromatic toasted sesame oil, and tossing it with romaine, onion and shredded cheese. This salad is topped with slices of grilled, marinated duck breast, and garnished with crisp won ton strips and sesame seed to add crunch and Far Eastern savor.
There you have it: an attractive plateful, good flavor and only about 8 grams of fat per serving.
Asian Grilled Duck Salad
Recipe developed by the Duckling Council
3 White Pekin boneless duck breasts, skin removed
2 tablespoons soy sauce
1 tablespoon minced garlic
2 1/2 teaspoons Asian sesame oil
Vegetable oil for deep frying
6 won ton wrappers, cut into 3/8-inch strips
3/4 cup prepared fat-free Caesar salad dressing
12 cups torn romaine lettuce (about 2 large heads)
6 green onions, sliced
1/3 cup shredded Asiago or Parmesan cheese
2 tablespoons sesame seed
Place duck breasts in baking dish. In small bowl, mix soy sauce, garlic and 1 1/2 teaspoons sesame oil. Pour soy sauce mixture over duck breasts, turning to coat on both sides. Cover with plastic wrap and refrigerate at least 2 hours.
Heat gas or charcoal grill (or broiler) until medium hot. Pat duck breasts dry with paper towels and place on grill rack; cook 5 minutes with grill covered. Turn duck breasts over; cook 6 minutes more or until internal temperature measures 165 degrees. Let duck breasts rest 5 minutes; cut into thin slices across the grain.
In heavy pot, heat vegetable oil to 350 degrees. Deep-fry won ton strips 30 to 60 seconds or until golden brown. Drain on paper towels. In large bowl, stir together Caesar dressing and 1 teaspoon sesame oil. Toss lettuce, green onions and cheese with Caesar dressing mixture. Arrange on 6 chilled plates; top with sliced duck, dividing it equally. Sprinkle with sesame seed and won ton strips. The salad can also be arranged in a large, shallow salad bowl.
Yield: 6 servings
Nutrition information per serving: 277 calories, 8 grams fat (26 percent fat calories), 29 grams protein, 21 grams carbohydrate, 128 milligrams cholesterol, 4 grams dietary fiber, 833 milligrams sodium.
Local journalism is essential.
Give directly to The Spokesman-Review's Northwest Passages community forums series -- which helps to offset the costs of several reporter and editor positions at the newspaper -- by using the easy options below. Gifts processed in this system are not tax deductible, but are predominately used to help meet the local financial requirements needed to receive national matching-grant funds.
Subscribe now to get breaking news alerts in your email inbox
Get breaking news delivered to your inbox as it happens.
---