News > Business
CdA company hopes to collar celebrity pets
Wed., Sept. 14, 2005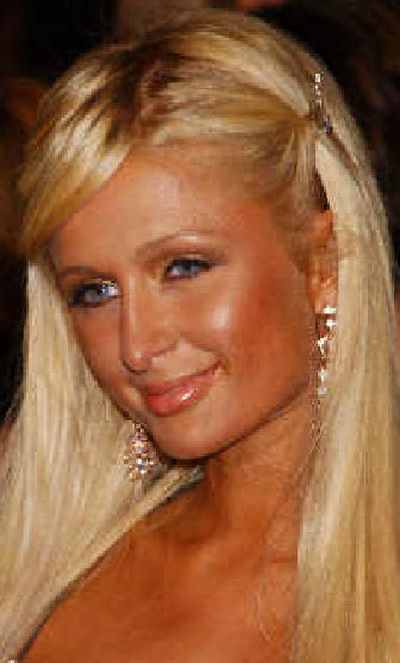 COEUR d'ALENE – When Paris Hilton dives into her Emmy gift bags, she'll pull out a collar engraved with "Bambi" for her latest squeeze – the Chihuahua that replaced Tinkerbell in Hilton's recent publicity shots.
The tag is part of a marketing effort launched by Oxyfresh Worldwide of Coeur d'Alene. Angling for prime-time publicity for its growing line of spa-like pet products, the firm sent 25 gift bags to this year's Emmy nominees. Each bag contains a $100 worth of pet treats, from breath fresheners and antioxidant formulas to jerky with cartilage- rebuilding compounds.
Currie Corbin, Oxyfresh's marketing director, figured the pet line might be novel enough to nab some talk-show time in the run up to Sunday's Emmy Awards. "Ultimately, we would love to get some celebrities' endorsement," he said.
But though gift bag recipients include Fatty, the mixed breed owned by Desperate Housewives actress Nicolette Sheridan, and Jon Stewart's two pit bulls, Oxyfresh's main market is the average mutt. The company sells 60 health and beauty products. Pet products are the fastest growing segment at Oxyfresh, a multi-level marketing firm similar in structure to Amway. Company officials won't release figures, but said that pet products sales grew 23 percent in the last two years.
"People's pets are their kids, and they want their kids to have the best," Corbin said.
The numbers bear him out. Americans spent $34 billion on their pets last year. In another sign of pet owners' affection, 85 percent refer to themselves as their animals "parents," according to a recent survey by the American Animal Hospital Association.
In the 1990s, the trend manifested itself in "doggie daycares" and baby-shower inspired "puppy showers" for new dog owners. These days, people's affection for their pets includes organic pet food, and health and beauty supplements.
"It's called humanization of pet products, and it's where the whole industry is going," said Dr. Phil Brown, a veterinarian and vice president research and development at Nutri-Vet, a Boise company that sells pet supplements.
Pet oral hygiene products by themselves are a $425 million industry. "As animals get closer to your home, you going to notice their breath more," Brown said. Owners are also savvier about periodontal disease.
In addition, pets are living longer, and they're running into the same problems with high blood pressure, arthritis and cancers that people are, Brown said. That's spurred the interest in antioxidant supplements to deter the effects of aging, and natural foods.
"People are saying, 'I eat natural foods and organic foods. Are there natural foods available for my pets?'" he said.
The trend is in full-swing at Urban Canine in Spokane, which sells organic dog food and promotes chemical-free grooming products.
"Dewdrop Doggie," a bottle of $11.99 shampoo made by Pet Aromatics, contains a lavender-eucalyptus blend, advertised as a soothing, natural insect repellent. Labels on sacks of dog food list organic beef and free-range chickens among their ingredients.
The store reflects the philosophy of Urban Canine founder Deborah Olmstead, who uses only non-chemical cleaning products in her home. As customers embrace healthy lifestyles, they're transferring their awareness of pesticides and phosphates to pet products, said Nicole Boyd, the store's assistant manager. "It started in the pet food industry, and now it's expanding to other products," she said.
People want an all-natural lifestyle both for themselves and their pets, Boyd said. It makes a difference in how their pets look and feel, she said.
The number of products is growing rapidly, said Rowena Moynihan, manager of LaundraMUTT, Coeur d'Alene's do-it-yourself dog wash. At LaundraMUTT, pet owners choose between three standard shampoos and four specialty varieties for sensitive skin, fleas and other health issues. Beauty rinses can enhance an Irish setter's russet highlights, or add sheen to a black lab's coat.
"There have always been those products in the dog show world," Moynihan said. "Now, the really groovy products are a lot more available."
Oxyfresh's Corbin is hoping that a few celebs paw through their gift bags, and like what they find. A shot of Bambi in collar advertising "oxyfresh.com" would suit him, too.
"We know that when Paris sees the tag, she'll want Bambi to wear it," Corbin quipped.
Local journalism is essential.
Give directly to The Spokesman-Review's Northwest Passages community forums series -- which helps to offset the costs of several reporter and editor positions at the newspaper -- by using the easy options below. Gifts processed in this system are not tax deductible, but are predominately used to help meet the local financial requirements needed to receive national matching-grant funds.
Subscribe now to get breaking news alerts in your email inbox
Get breaking news delivered to your inbox as it happens.
---