News > Features
For her, motherhood is the necessity of intervention
Wed., Sept. 14, 2005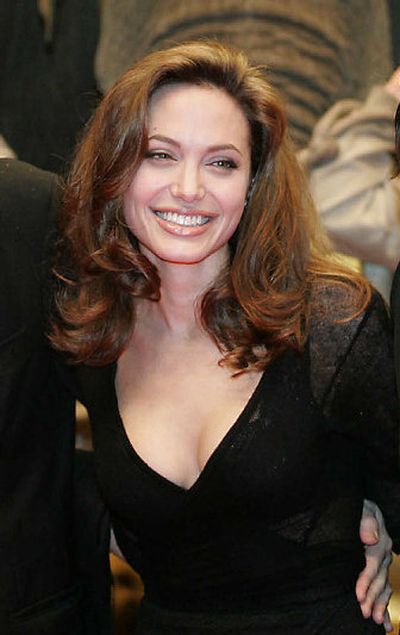 Ask Angelina Jolie about her children and like any proud mother, she'll brag about them. "They give me so much joy, and I want to make a better world for them," the Oscar-winning actress said Tuesday on ABC's "Good Morning America."
Jolie has a 4-year-old son Maddox, who was adopted from Cambodia, and a daughter, Zahara, adopted this summer from Ethiopia.
A new MTV documentary, "The Diary of Angelina Jolie & Dr. Jeffrey Sachs in Africa," chronicling her trip to a village in Kenya with the U.N. adviser, airs tonight at 7.
"Africa is beautiful, marvelous, smart people, strong people, strong country and has a potential to be so much," Jolie said.
"It's magnificent, and it has so much hope, so much possibility."
The 30-year-old actress, who is a U.N. goodwill ambassador, said her children motivate her to continue her humanitarian work.
"I'm fortunate to do what I get to do to be here, to talk about these issues," she said. "I'm just grateful every day that I have the chance."
There go her weekends
This just in: "Saturday Night Live" comedian-writer Tina Fey has given birth to her first child.
Fey, co-anchor of Weekend Update, the fake news desk of "SNL," gave birth Saturday in New York to a daughter, Alice Richmond. She has been married to Jeff Richmond, a composer for the show, since 2001.
She will take a brief maternity leave from "Saturday Night Live," which premieres its 31st season Oct. 1.
Insert your own baby Seal joke here
Meanwhile, German supermodel Heidi Klum gave birth to a baby boy late Monday.
It's the first child for Klum, 32, and her husband, Grammy-winning singer Seal. She has a 16-month-old daughter, Leni, from a previous relationship.
Is good Matt's hunting over?
Matt Damon and his girlfriend, Luciana Barroso, are engaged, according to Us Weekly.
The couple haven't set a wedding date, the magazine said. It would be Damon's first marriage. Barroso has a daughter, Alexa, from a previous relationship.
Now she can dye happy
"Desperate Housewives" star Teri Hatcher is the new spokeswoman for Clairol's Nice 'n Easy hair color.
"In all my career, in my ups and downs, I've never had a beauty campaign," says Hatcher, who adds that she's had a spot of gray since she was 25.
"This was meaningful that at almost 41 years old, I could be getting my first beauty campaign. It made me feel really great."
The latest boy brand
Mary-Kate and Ashley Olsen want to make Cole and Dylan Sprouse the male versions of themselves.
Under the brand name D.C. Sprouse, they'll be the face of a boys division that will include DVDs, CDs and other merchandise for the Olsens' Dualstar Entertainment Group.
"My sister and I started the whole 'tween (merchandising) empire," Ashley says. "I definitely see the potential for the boys to do that sort of thing."
The 13-year-old Sprouse twins shared the role of Julian in Adam Sandler's 1999 film "Big Daddy." The Olsens, now 19, played Michelle Tanner on TV's "Full House."
The birthday bunch
Actor Walter Koenig ("Star Trek") is 69. Singer-actress Joey Heatherton is 61. Actor Sam Neill is 58. Actress Faith Ford is 41. Actor Dan Cortese is 37. Bassist Craig Montoya (Everclear) is 35. Actress Kimberly Williams-Paisley ("According to Jim") is 34. Rapper Nas is 32. Actor Adam Lamberg ("Lizzie McGuire") is 21.
Local journalism is essential.
Give directly to The Spokesman-Review's Northwest Passages community forums series -- which helps to offset the costs of several reporter and editor positions at the newspaper -- by using the easy options below. Gifts processed in this system are not tax deductible, but are predominately used to help meet the local financial requirements needed to receive national matching-grant funds.
Subscribe now to get breaking news alerts in your email inbox
Get breaking news delivered to your inbox as it happens.
---