News > Nation/World
Looters thwart Gaza efforts
Wed., Sept. 14, 2005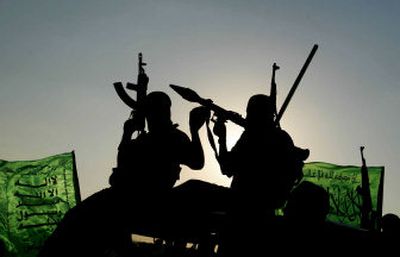 NEVE DEKALIM, Gaza Strip – Palestinians looted dozens of greenhouses on Tuesday, walking off with irrigation hoses, water pumps and plastic sheeting in a blow to fledgling efforts to reconstruct the Gaza Strip.
American Jewish donors had bought more than 3,000 greenhouses from Israeli settlers in Gaza for $14 million last month and transferred them to the Palestinian Authority. Former World Bank President James Wolfensohn, who brokered the deal, put up $500,000 of his own cash.
Palestinian police stood by helplessly Tuesday as looters carted off materials from greenhouses in several settlements, and commanders complained they did not have enough manpower to protect the prized assets. In some instances, there was no security and in others, police even joined the looters, witnesses said.
"We need at least another 70 soldiers. This is just a joke," said Taysir Haddad, one of 22 security guards assigned to Neve Dekalim, formerly the largest Jewish settlement in Gaza. "We've tried to stop as many people as we can, but they're like locusts."
The failure of the security forces to prevent scavenging and looting in the settlements after Israel's troop pullout Monday raised new concerns about Gaza's future.
Palestinian leader Mahmoud Abbas told his people in a televised speech Tuesday that he would take immediate steps to impose order. "We have one law for everyone and no one is above the law. We are not going to tolerate chaos after today," he said.
The Palestinian leader is under intense pressure from his people and the international community to stop the growing lawlessness in Gaza, where rival militant groups are jockeying for power. As Abbas spoke, hundreds of masked Hamas gunmen wielding rifles and grenade launchers paraded through a nearby refugee camp.
The greenhouses are a centerpiece of Palestinian plans for rebuilding Gaza after 38 years of Israeli occupation. The Palestinian Authority hopes the high-tech greenhouses left by the Israelis will provide jobs and export income for Gaza's shattered economy.
In other developments Tuesday, Israeli Defense Minister Shaul Mofaz toured two West Bank settlements, Karnei Shomron and Beit Arieh, and said Israel must develop the main blocs there after its Gaza pullout.
Prime Minister Ariel Sharon has said one reason for the Gaza pullout was to strengthen Israel's grip on its main settlement blocs in the West Bank, where 246,000 settlers live. Palestinians demand a complete Israeli pullout from the West Bank after its withdrawal from Gaza.
Local journalism is essential.
Give directly to The Spokesman-Review's Northwest Passages community forums series -- which helps to offset the costs of several reporter and editor positions at the newspaper -- by using the easy options below. Gifts processed in this system are not tax deductible, but are predominately used to help meet the local financial requirements needed to receive national matching-grant funds.
Subscribe now to get breaking news alerts in your email inbox
Get breaking news delivered to your inbox as it happens.
---