Sports
Seattle spoilers knock off Angels on last play
Wed., Sept. 14, 2005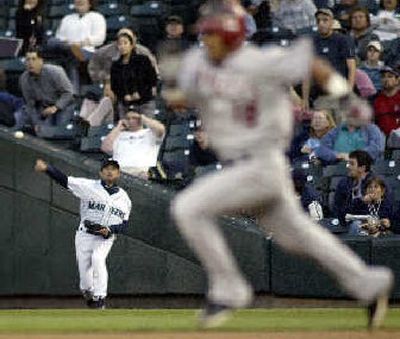 There will be no pennant for the Seattle Mariners this year, although they have inserted themselves neck deep into the American League West race this month.
Say this for a team that could still lose well more than 90 games – they may not be a good team yet, but they play a more exciting kind of a baseball than their fans have seen in months.
With a ninth inning that would have been the stuff of legend if Seattle were contending, the Mariners beat the first-place Los Angeles Angels 2-1 on Tuesday, winning on the final play of the night at Safeco Field.
"Exciting," manager Mike Hargrove said, shaking his head.
He was talking about the top and bottom of the ninth.
"You don't often get out of a bases-loaded, no one out situation – especially against a team like that," Hargrove said of the Angels half of the inning. "We did, and then they almost turned it around on us."
Take it in the order it happened.
Ryan Franklin had pitched a beautiful game, working through the first eight innings allowing just one run – only to be tied with the Angels Paul Byrd, who was just as stingy.
With the game knotted, the Angels chased Franklin with a single, double and intentional walk that loaded the bases with no one out and Darin Erstad due up. Hargrove waved in left-hander George Sherrill.
"We had to have an out there and he exceeded expectations," Hargrove said. "He got two!"
Sherrill got Erstad to ground to third baseman Adrian Beltre, who stepped on the bag for one out then threw to the plate to catch baserunner Orlando Cabrera in a rundown.
"If you want to pitch late in games, you'd better live for the pressure," Sherrill said. "I love it."
J.J. Putz finished the inning by getting a ground ball out, and a Safeco Field crowd of 28,813 that had been headed for the exits moments earlier settled back down to see what the Mariners might do in their half.
It was worth the wait – if only to see a five-man infield.
Rookie Jeremy Reed beat out a perfectly placed drag bunt, Raul Ibanez singled Reed to third base and Richie Sexson came to the plate. Angels manager Mike Scioscia got creative.
He pulled center fielder Steve Finley from the game and inserted infielder Macir Izturis into Finley's spot – but kept Izturis in the infield against Sexson. That gave the Angels five infielders and two outfielders on defense.
"I've never seen that," said Reed, who was standing at third base representing the winning run."
Lots of folks have, but few have seen it work. This time, it did – Sexson grounded the ball to second baseman Adam Kennedy, who flipped to center fielder Izturis, who relayed on to first base.
The old 4-8-3 double play, if you're scoring, and when it was over, Reed was still at third base.
"You can ask 10 people and get a lot of opinions, but in that situation I don't want Reed trying to score and getting thrown out," Hargrove said.
"There are more ways to score from third base than there are from second.
He was under orders to see a ball get through the infield before he tried to score."
Now with two outs and a man at third, the Angels sent Chone Figgins to center field and shoved Izturis over to third base to play conventional defense. They intentionally walked Adrian Beltre, even though that set up a left-handed hitting Greg Dobbs vs. right-handed pitcher Scot Shields.
"I don't blame them," Hargrove said. "A lot of teams would rather face Dobbs than Beltre, but if Greg keeps coming through, that could change."
Dobbs came through.
"You've got a guy on the mound who can throw 94-95 mph, so yeah, I was looking fastball," Dobbs said. "In that situation, you go up thinking positive, thinking about hitting the ball up the middle."
Shields threw a fastball. Dobbs singled up the middle.
Game over.
After taking two from second-place Oakland last week, the Mariners have taken the first two games of a three-game series with the Angels. They may not be in contention, but the Mariners are certainly in this pennant race.
"It's nice to play teams that have so much to play for, but the bottom line is we want to win no matter who we're playing," Dobbs said. "This team has a great outlook. It wants to win, and it plays hard every game."
Someone asked Franklin if he thought his team was playing the 'spoiler' role in the A.L. West.
"We just want to win games, any games we can," Franklin said.
This one had a little significance to the Mariners and their fans. With 19 games left to the 2005 season, Seattle has now won as many games this year (63) as it did all of 2004.
Local journalism is essential.
Give directly to The Spokesman-Review's Northwest Passages community forums series -- which helps to offset the costs of several reporter and editor positions at the newspaper -- by using the easy options below. Gifts processed in this system are not tax deductible, but are predominately used to help meet the local financial requirements needed to receive national matching-grant funds.
Subscribe to the sports newsletter
Get the day's top sports headlines and breaking news delivered to your inbox by subscribing here.
---