News > Voices
Spiritual boot camp
Thu., Sept. 15, 2005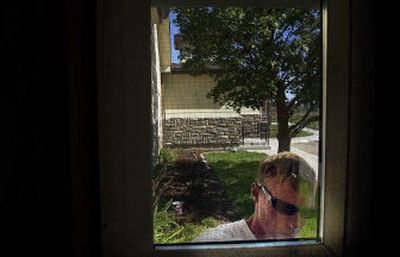 Rob McJunkin is getting his life back, living in a dorm on a dead-end road, 2 ½ miles north of U.S. Highway 2.
The same can be said for A.J. Johnson, Robert Doyle and the other 22 men who are recovering from drug addiction, alcoholism or other life-controlling patterns that have steered them down destructive roads.
The men are students at the Spokane Men's Center of Teen Challenge International. The two-building campus at 2400 N. Craig Road is on 30 wide-open acres outside Airway Heights. The land and properties, once used as a Nike missile site, were bought by an individual after the Cold War era and have been used by the evangelical Christian-based nonprofit recovery center for more than 20 years.
For the past two years, staff and residents have been building an expansion to the main building that is used as a chapel, classroom, living room, cafeteria, recreation center (with pool tables) and administrative offices. The size has increased from 6,000 square feet to 16,000.
The $850,000 expansion, primarily paid for by First Assembly of God congregants and other private donors, will be dedicated on Saturday. The public is invited to attend and tour the building between 11 a.m. and 3 p.m.
Pastor Chris Hodges has been executive director of the Spokane Men's Center for nearly six years. Over that time, he's seen hundreds of men go through the 12-month program that involves a rigorous schedule, beginning with 5:30 a.m. weekday wakeups.
The first class is at 6:15 a.m. A six-plus-hour workday follows.
Some students work on campus, currently getting the place ready for the grand opening of the new building. Others work as landscapers and at other odd jobs, or in one of the two Teen Challenge thrift stores, at 1919 E. Sprague Ave. or the newly opened 2006 N. Ash location.
Lights out in the dorm, where some rooms are set up to sleep eight, is at 10 p.m. on weekdays.
Hodges explained that the classes focus on teaching the men how to achieve goals, how to work, and the meaning of responsibility. Students leave campus to attend church on Sunday, and prayer classes are Monday and Tuesday nights.
"Most (of the students) grew up in Christian homes and took a left turn somewhere," said Holmes, whose father, Mike Holmes, is the national president of Teen Challenge USA. "We are a faith-centered recovery road. You have to choose to come here."
McJunkin, a 48-year-old Spokane man, had been to a half-dozen treatment centers that were not faith based before finding Teen Challenge eight months ago. The recovering alcoholic, whose marriage was collapsing, said he heard about Teen Challenge from his aunt, a member of Spokane Valley First Assembly Church.
He is scheduled to complete the program Jan. 7.
"It takes about a year to develop new habits," McJunkin said. "I'm developing as a whole new person."
Johnson, a 20-year-old from Sacramento, Calif., is six months into the program, which he partially completed in Portland His demons were oxyconton and cocaine, at times a $30,000-a-month habit he supported through dealing and stealing.
"This is an awesome place right here," said Johnson, sitting in the dining room that was finished three weeks ago. "This is the best in the Northwest _ the best staff, the best facility."
There are 185 ministry centers in the United States and 245 centers in 77 countries. The organization was founded in 1958 in Brooklyn, N.Y., when a country minister read a story about a 15-year-old boy who was brutally beaten by a gang in New York.
The minister reached out to the gang with the message of God and named it Teen Challenge.
Although the word "teen" remains in the name, thousands of adults have gone through the program. It cost an average of $1,500 a month to maintain and support each student in the residential program.
Informal studies show about one-third of students complete the program. Of that one-third, 60 to 70 percent remain successful five years after graduation, said Dave Scotch, accreditation manager at the national headquarters in Springfield, Mo.
"Our goal is to accept Christ in life and to learn about how to live a practical, Christian life where you don't have to use drugs anymore," Scotch said. "If (the success) happens to be two out of 100, that's what it is."
However, like recovery programs of this nature, Scotch said, Teen Challenge always is looking to improve its success rate.
Hughes said the next improvement at the center will be re-siding the dorm, which will begin in October. Other plans include resurfacing the basketball court and building a softball field where Teen Challenge's team would challenge church teams.
Local journalism is essential.
Give directly to The Spokesman-Review's Northwest Passages community forums series -- which helps to offset the costs of several reporter and editor positions at the newspaper -- by using the easy options below. Gifts processed in this system are not tax deductible, but are predominately used to help meet the local financial requirements needed to receive national matching-grant funds.
Subscribe to the Coronavirus newsletter
Get the day's latest Coronavirus news delivered to your inbox by subscribing to our newsletter.
---