News > Nation/World
Al-Qaida recruiting more Iraqis, U.S. officials say
Fri., Sept. 16, 2005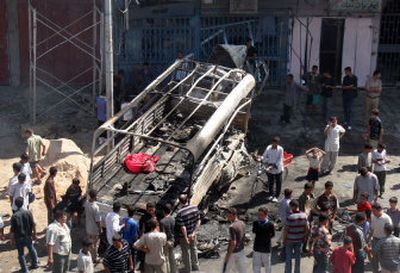 WASHINGTON – Al-Qaida's top operative in Iraq is drawing growing numbers of Iraqi nationals to his organization, increasing the reach and threat of an insurgent group that has been behind many of the most devastating attacks in the country, according to U.S. officials and Iraqi government leaders.
The group, headed by Jordanian-born radical Abu Musab al-Zarqawi, previously was composed almost exclusively of militants from other Arab nations, and has long symbolized the foreign dimension of a stubborn insurgency fighting to oust American forces.
But al-Zarqawi "is bringing more and more Iraqi fighters into his fold," a U.S. official said, adding that Iraqis now accounted for "more than half his organization."
Although Zarqawi is believed to command fewer than 1,000 fighters, the daring and lethal nature of their attacks, coupled with al-Zarqawi's links to the al-Qaida terrorist network, have made him the most notorious figure in the Iraq insurgency.
The United States has placed a $25 million bounty on al-Zarqawi, whose organization has been behind a series of beheadings, suicide bombings and other gruesome attacks.
Al-Zarqawi's faction has claimed responsibility for a bombing campaign this week that has left at least 169 dead, apparently in reprisal for a U.S.-Iraqi campaign against insurgents in Tall Afar.
Details of a growing Iraqi dimension to al-Zarqawi's group were provided by three U.S. officials with access to classified intelligence data and who spoke on condition of anonymity because of the sensitivity of the subject. Their comments reflect the government's latest attempt to come to grips with a multilayered insurgency that has often confounded U.S. forces and intelligence agencies.
The U.S. officials indicated that the infusion of Iraqis, including, apparently, former members of the Iraqi intelligence service and military, represented a change in the group's make-up rather than a major expansion.
A significant Iraqi presence in the al-Zarqawi group carries ominous implications, both for the Bush administration and the fledgling government it supports in Baghdad.
The Iraqis under al-Zarqawi's wing could provide him with better intelligence and give legitimacy to a group viewed by many Iraqis as unwanted outsiders. In addition, Iraqi recruits are being exposed to the workings of a highly efficient Islamic extremist group.
The influx of Iraqis also would diminish the impact of any tightening of border controls – a key Bush administration objective – on the insurgency's strength.
U.S. intelligence in Iraq has frequently been wrong. But two factors add credence to the reports of the shifting composition of al-Zarqawi's group: several of his senior lieutenants have been captured by U.S. forces in recent months and some reportedly have talked extensively under interrogation.
Senior Iraqi officials have reported seeing the same development. Mowaffak Rubaie, Iraq's national security adviser and a former Shiite activist, said "there's no doubt" that once-nationalistic elements of the insurgency were drifting toward al-Zarqawi and his extremist Salafi sect of Islam.
Local journalism is essential.
Give directly to The Spokesman-Review's Northwest Passages community forums series -- which helps to offset the costs of several reporter and editor positions at the newspaper -- by using the easy options below. Gifts processed in this system are not tax deductible, but are predominately used to help meet the local financial requirements needed to receive national matching-grant funds.
Subscribe now to get breaking news alerts in your email inbox
Get breaking news delivered to your inbox as it happens.
---