Sports
Cardinals club Cubs to clinch N.L. Central
Fri., Sept. 16, 2005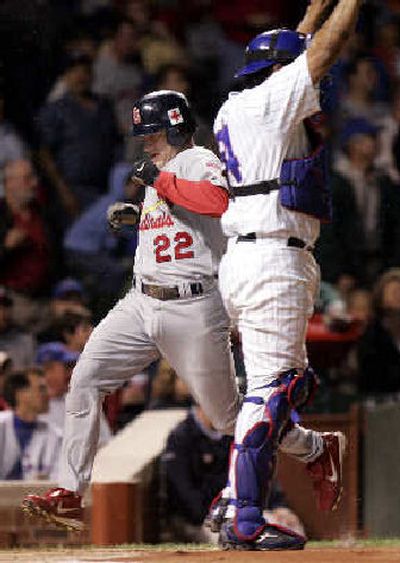 CHICAGO – The St. Louis Cardinals clinched another N.L. Central title Thursday night in what has become a customary experience under manager Tony La Russa.
Jeff Suppan allowed six hits over eight-plus innings and the Cardinals beat the Chicago Cubs 6-1 in a game called with two outs in the bottom of the ninth after a 58-minute rain delay.
St. Louis' fourth N.L. Central title in the last six years made the Cardinals the first team to clinch a playoff berth this season. Now they hope to find their way back to the World Series, where they were swept last year by the Boston Red Sox.
The victory over the Cubs, coupled with Atlanta's 6-4 win over Philadelphia, gave St. Louis (94-54) the division title because Houston could at best match the Cardinals at 94 wins, with both teams assured of playoff berths at that figure. St. Louis has the tiebreaker because it clinched the season series against the Astros.
But just like last season after they clinched, La Russa wouldn't acknowledge the division title until the Cardinals' magic number over second-place Houston is zero. So, the Cardinals were not doing any celebrating in their clubhouse.
"We understand we're officially in October baseball," La Russa said. "As I mentioned before, we discussed it. It happened last year and again this year. It just doesn't seem right to celebrate when your magic number is one," he said.
"You're watching the number and go '10-9-8' and get to one and you're going to celebrate? Zero is when you celebrate. That's what we're doing to do."
Running away with the division for a second straight season, the Cards moved into first place on April 16 and never left.
They quickly took care of what they needed to Thursday night.
St. Louis jumped on Mark Prior for three first-inning runs as David Eckstein and Pujols singled, Larry Walker doubled in a run, John Rodriguez had an RBI grounder and Abraham Nunez beat out a run-scoring infield single to short.
Suppan (15-10) retired 13 straight after a third-inning single by Todd Walker before Neifi Perez singled in the eighth.
Derrek Lee's 43rd homer leading off the bottom of the ninth ended Suppan's night and ruined his shutout bid. As rain began to fall, the Cubs loaded the bases against Al Reyes. Catcher Yadier Molina missed Henry Blanco's foul popup that would have ended the game, and then Blanco reached to load the bases when Eckstein slipped and fell fielding his grounder to short just before the delay.
The Cards scored three runs in the eighth as Larry Walker was walked by Todd Wellemeyer with the bases loaded, Rodriguez added a sacrifice fly and a third run scored on an error.
Local journalism is essential.
Give directly to The Spokesman-Review's Northwest Passages community forums series -- which helps to offset the costs of several reporter and editor positions at the newspaper -- by using the easy options below. Gifts processed in this system are not tax deductible, but are predominately used to help meet the local financial requirements needed to receive national matching-grant funds.
Subscribe to the sports newsletter
Get the day's top sports headlines and breaking news delivered to your inbox by subscribing here.
---