Sports
Falcons will battle right to the end this time
Fri., Sept. 16, 2005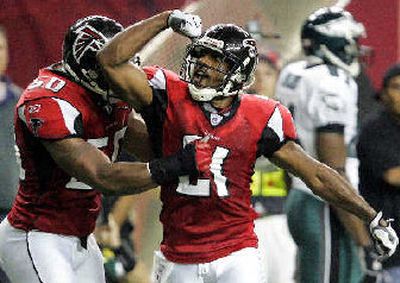 KIRKLAND, Wash. – The 2004 season finale will forever be in Seattle Seahawks lore.
There was a fantastic finish, a division title and – who could forget – Shaun Alexander claiming he was "stabbed in the back" by Mike Holmgren when he claimed the coach's playcalling denied him the league rushing title.
In Atlanta, the riveting, 28-26 Seahawks victory over the Falcons was a footnote. It was actually even less significant than that.
For all intents and purposes, the Falcons had already closed out an 11-4 season with an NFC South title and first-round playoff bye. They had to go through the motions of playing one final game that meant absolutely nothing to their playoff standing.
So if today's Falcons look a little more motivated than the group that came here in January, that's because they are.
"They were still playing hard, but they were (gearing up) for the playoffs. And we were fighting to stay alive," Seahawks defensive tackle Craig Terrill said. "It'll be a slugfest this week. We'll both be bringing everything we've got."
This time, the Falcons will keep Michael Vick on the field for the entire game. They will open up their playbook, regardless of the chance of injury. And most important, they will care whether they win the game.
"It was interesting," Falcons coach Jim Mora said of the Jan. 2 meeting. "There were conflicting emotions a bit.
"Anytime you step out on the field, you are playing to win – it doesn't matter who you are playing, where you're playing. … At the same time, we had already secured exactly where we were going to play in the playoffs, so we kind of had to balance those things out."
That being said, Mora was quick to point out that his team played well in the 2004 season finale, but the Seahawks played better.
Vick, who did not play the previous week against New Orleans because of a shoulder injury, was pulled in the second quarter of the game with Seattle, and a few other starters joined him on the sidelines in the second half.
So this year's Falcons will sport a different look than the 2004 squad.
"I think they are just a better team," Seattle quarterback Matt Hasselbeck said. "… They are very good. They are actually fun to watch. It's fun to watch film because they are so good, but at the same time you realize you have to play them this week."
While Seattle has plenty of new starters from last season – 11 from the January meeting, including eight on defense – the Falcons are by and large the same group of players that lost to the Seahawks but went on to the NFC title game. The only two current defensive starters who weren't with Atlanta last year are middle linebacker Edgerton Hartwell and safety Keion Carpenter.
The addition of Hartwell, who replaces journeyman Chris Draft, was an especially important move. The free agent from Baltimore has solidified the linebacking corps and added leadership to the defense.
"All my life I've been a middle linebacker, and being a leader comes with that," Hartwell said.
"I've been a leader since Pop Warner. If I wasn't out there being a leader, I wouldn't be the same Ed Hartwell."
Seahawks fans may remember Hartwell, whose free-agent tour included Seattle, Kansas City and Atlanta.
He cited a number of factors – weather, geography and comfort level – in his final decision to sign with the Falcons.
"Overall, I thought I'd be happy here, and I am," he said. "But I'd probably be happy wherever I went."
The Seahawks are happy with how things worked out, too, with second-round draft pick Lofa Tatupu taking over as the starting middle linebacker.
He's part of an overhauled defense that looks hardly anything like the one that took the field in the January meeting.
Four defensive starters have since been released, two moved on in free agency, and two others – linebackers Isaiah Kacyvenski and Niko Koutouvides – have moved into backup roles.
So the rematch, although separated by just more than eight months, could look entirely different.
Especially in terms of motivation.
"We're early in the season," Seahawks fullback Mack Strong said. "We're trying to get back on track; they're trying to build some momentum for the rest of their season. It's just going to be a good game."
Notes
Matt Hasselbeck's quarterback rating went up 13.2 points Thursday, moving him from 12th to seventh in the NFC. The NFL changed his final interception to a sack and fumble. Jacksonville's Reggie Hayward hit Hasselbeck's arm as he tried to throw a pass, and the ball eventually landed in the arms of Jaguars defensive lineman Paul Spicer. Because it was ruled a fumble instead of an interception, Hasselbeck's quarterback rating goes from 61.3 to 74.5. … Seahawks receiver D.J. Hackett (knee) was upgraded from doubtful to questionable on the team's injury report. He practiced on a limited basis Thursday. … Two Falcons, linebacker Keith Brooking (foot) and wide receiver Roddy White (ankle) were taken off Atlanta's injury report because they are expected to play. A third, cornerback Kevin Mathis (knee), was placed on injured reserve. … The Seahawks sold enough tickets by Thursday's deadline that the television blackout in the Seattle area was lifted.
Local journalism is essential.
Give directly to The Spokesman-Review's Northwest Passages community forums series -- which helps to offset the costs of several reporter and editor positions at the newspaper -- by using the easy options below. Gifts processed in this system are not tax deductible, but are predominately used to help meet the local financial requirements needed to receive national matching-grant funds.
Subscribe to the sports newsletter
Get the day's top sports headlines and breaking news delivered to your inbox by subscribing here.
---