News > Idaho
Four who helped save Shasta share reward
Fri., Sept. 16, 2005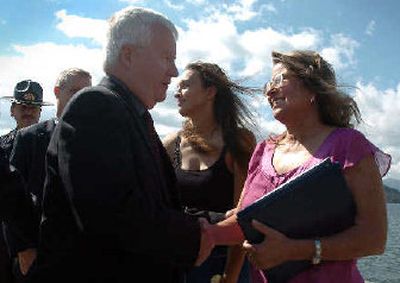 Up until the early morning hours of July 2, Phillip "Nick" Chapman, Chris Donlan, Amber Deahn and Linda Olson were four ordinary people.
The kind of people you might see at a Denny's restaurant on any given night.
Two young men sipping coffee with their girlfriends. A pregnant waitress working the night shift to help pay bills. A friendly middle-age restaurant manager handing out omelettes.
The four shared in one extraordinary moment that day – the rescue of 8-year-old Shasta Groene and capture of a suspected killer. On Thursday, the FBI and U.S. Department of Justice lauded them as heroes, and awarded each a check for $25,000 during a ceremony at Independence Point near Coeur d'Alene City Park.
FBI Special Agent-in-Charge Timothy Fuhrman said they were "four individuals, going about their daily activities, but who stepped up to the plate at the time of a little girl's need … and became heroes."
Fuhrman described how Deahn made a milkshake "ever so slowly," in order to give her manager, Olson, time to call 911 and report that a girl who looked like Shasta Groene was sitting in a booth at the restaurant. Chapman and Donlan kept an eye on suspected abductor and murderer Joseph Edward Duncan, took down his license plate and also called 911.
"All four decided that Duncan would not leave the restaurant that night with Shasta," Fuhrman said.
Duncan remains in custody at the Kootenai County Jail, awaiting trial on three counts of first-degree murder in the bludgeoning deaths of Brenda Groene, her 13-year-old son, Slade, and her boyfriend, Mark McKenzie. Duncan has pleaded not guilty. Federal charges will likely be filed in connection with the kidnapping of Shasta Groene and her 9-year-old brother, Dylan, and in Dylan"s murder. His remains were found at a western Montana campsite after Shasta"s recovery.
The FBI had offered the $100,000 reward for information leading to the return of the Groene siblings or to the identity of their abductor. Fuhrman said the decision was made to divide the FBI reward money four ways based on information from 911 dispatch, detectives and people at the restaurant that night.
All four of the newly anointed heroes said they weren't thinking of the potential reward when they saw Shasta sitting in Denny's just before 2 a.m. But they said the funds will be a big help.
"You never expect you'll get $25,000 just for helping someone out," said Donlan, a 17-year-old student at Project CDA, the Coeur d'Alene School District's alternative high school. Donlan, who has no car and works at Wendy's, said he's not sure how he'll spend his reward money.
He's thinking about saving at least $10,000 for college expenses. He wants to be an auto mechanic, he said.
Deahn, 24, said she's hoping to get her family out of debt. Last week she gave birth prematurely to her second child, a son. She said he's in the neonatal intensive care unit and she expects some of the reward money will go to hospital bills because she doesn't have health insurance.
With part of the money, Deahn said she'll continue to develop a Web site, americasmissingangels.com, with links and resources to help find missing children. She said she hopes the site will be up and running by the end of November.
"I was given the opportunity not only to catch a criminal, but catch the devil red-handed," Deahn said. "I couldn't be prouder of what I have done."
Thursday's event was the second round of reward money in the case. The Kootenai County Sheriff's Department earlier awarded $4,315 each to Deahn and Olson, who placed the first call to 911.
The children"s father, Steve Groene, said Thursday that he was happy to see Chapman and Donlan get some credit for their role in Shasta"s rescue. Since Duncan"s capture, much attention has centered on Deahn, who gave the girl crayons and offered her the milkshake.
Chapman and Donlan didn't get a share of local reward money because their call was the second to 911, placed just after Olson's.
"All four of these people are well-deserving," Groene said Thursday. "They certainly deserve what they"ve been given, and the title of heroes."
Local journalism is essential.
Give directly to The Spokesman-Review's Northwest Passages community forums series -- which helps to offset the costs of several reporter and editor positions at the newspaper -- by using the easy options below. Gifts processed in this system are not tax deductible, but are predominately used to help meet the local financial requirements needed to receive national matching-grant funds.
Subscribe now to get breaking news alerts in your email inbox
Get breaking news delivered to your inbox as it happens.
---