News > Nation/World
Gonzales to fight for pledge in schools
Fri., Sept. 16, 2005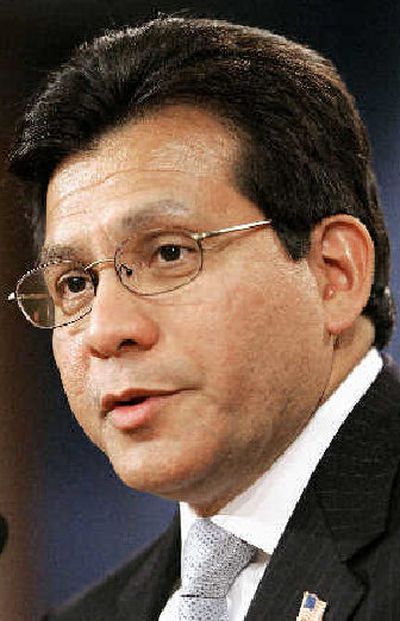 WASHINGTON – Attorney General Alberto Gonzales said Thursday that the Justice Department will fight to overturn a federal court ruling that the Pledge of Allegiance can't be recited in public schools because it contains a reference to God.
Gonzales said the pledge is one of several expressions of national identity and patriotism that make mention of God but don't violate the Constitution's ban on state-sponsored religion.
The high court "has affirmed time and again that such official acknowledgments of our nation's religious heritage, foundation and character are constitutional," Gonzales said in a statement a day after the ruling by U.S. District Judge Lawrence Karlton in San Francisco.
Karlton's decision could put the issue on track for another round of Supreme Court arguments. The court sidestepped the issue last year, ruling atheist Michael Newdow had no standing to bring the case on behalf of his daughter because he did not have custody of her.
Meanwhile, the Senate voted late Thursday to condemn the ruling saying the phrase "one nation under God" reflects the religious faith central to the founding of the nation.
Local journalism is essential.
Give directly to The Spokesman-Review's Northwest Passages community forums series -- which helps to offset the costs of several reporter and editor positions at the newspaper -- by using the easy options below. Gifts processed in this system are not tax deductible, but are predominately used to help meet the local financial requirements needed to receive national matching-grant funds.
Subscribe now to get breaking news alerts in your email inbox
Get breaking news delivered to your inbox as it happens.
---