News > Nation/World
Man accused in hunters' deaths testifies he fired in self-defense
Fri., Sept. 16, 2005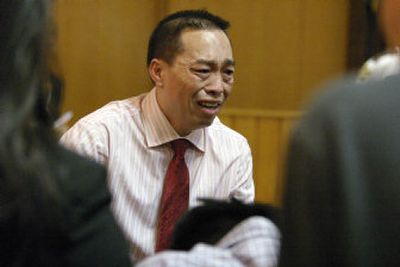 HAYWARD, Wis. — A Hmong man accused of killing six hunters and wounding two others said Thursday he feared for his life as he was confronted for trespassing.
Chai Soua Vang, who came to the United States from Laos more than 20 years ago, said he began shooting after he thought one of the hunters shot at him and the others were going for more guns.
As he stood in the witness stand, Vang pretended he had a rifle in his arms and detailed the order in which he shot them. He said he reloaded the gun twice.
Two survivors of the shootings testified earlier that no shots were fired at Vang before he started shooting.
The 36-year-old truck driver from St. Paul, Minn., is charged with six counts of first-degree murder and three counts of attempted murder. He faces mandatory life in prison if convicted.
On Thursday, Vang said he was lost in the isolated Sawyer County woods Nov. 21, found a tree stand he thought was on public property and climbed into it to get the lay of the land. He said Terry Willers approached him and told him he was on private property and should climb down.
As he walked away, Vang said he heard all-terrain vehicles in the distance, and moved faster because he thought they were coming after him. One soon pulled in front of him and another behind him, he said.
Vang said Robert Crotteau and his son got off one ATV, and Crotteau swore at him, used racial slurs and asked whether he knew he was trespassing.
"I thought they were going to beat me or something," Vang said.
Vang said he kept trying to walk away, then looked back and saw Willers take the rifle off his shoulder and point it at him. He said he dropped to his right and heard a shot. He saw dirt kick up from the ground about 40 feet in front of him.
"In my mind, he shot at me and missed," Vang said.
Vang said he quickly removed the scope from his rifle and shot Willers twice. Vang said everyone else began to scatter, and he thought they were going for what looked like a gun case on the back of one of the ATVs.
"I started charging," he said.
Under cross-examination by Attorney General Peg Lautenschlager, Vang was asked if each victim deserved to die. She held up a photo of each person as she asked the question.
Vang answered "no" in some cases and "yes" in others.
Asked about Crotteau, who witnesses have said initiated the angry confrontation in the woods, Vang said, "He is the one that confront me the first time and yell at me and call me names. That is who he is."
He repeated his explanation for his actions.
"I did what I had to do to defend myself. I would do what I had to do to stay alive," he said.
He acknowledged he acted out of anger as well as fear.
"Yes, I was angry and I was scared, not as much angry as scared," he said.
Before he took the stand, Vang spoke in his native language to the relatives seated behind him in the courtroom. Tears ran down his cheeks, and his voice quivered as he rubbed his hands together.
Closing arguments were scheduled for today, when the case could go to the jury.
Local journalism is essential.
Give directly to The Spokesman-Review's Northwest Passages community forums series -- which helps to offset the costs of several reporter and editor positions at the newspaper -- by using the easy options below. Gifts processed in this system are not tax deductible, but are predominately used to help meet the local financial requirements needed to receive national matching-grant funds.
Subscribe now to get breaking news alerts in your email inbox
Get breaking news delivered to your inbox as it happens.
---