News > Nation/World
Roberts declares 'I'm not an ideologue'
Fri., Sept. 16, 2005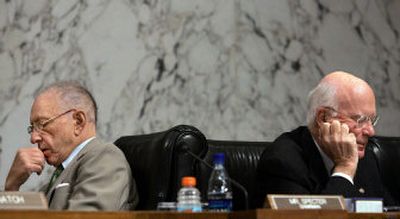 WASHINGTON – John G. Roberts Jr. on Thursday summed up his Senate hearings to become the nation's 17th chief justice by declaring, "I'm not an ideologue," brushing aside his early years in the trenches of the conservative Reagan revolution as he portrayed himself as a lawyer and judge devoid of social agendas.
With his confirmation to the Supreme Court virtually assured by solid support among Republicans, who control the Senate, Roberts used the closing moments of his 2 ½-days of testimony to try – with uncertain results – to soothe Democratic skeptics.
Saying that his loyalties are to the Constitution and "the rule of law," Roberts said that he had displayed no ideological bias during his two years as a federal appeals court judge and that he had, during 13 years in private practice, represented clients on all sides of contentious issues.
Some conservatives were alarmed last month over the disclosure that he had helped gay activists win a landmark Supreme Court case in 1996. But Roberts testified Thursday that he would have been equally willing to represent the opposing side, the state of Colorado, if it had asked for his help first.
On the other hand, Roberts broke with orthodoxy among Republicans, including President Bush, who say that medical liability lawsuits are out of control. Asked whether he thinks lawyers who represent people in product-liability or medical-malpractice cases are harming the United States, Roberts replied that he did not, citing a former fellow law clerk who he said "does a wonderful job" as a personal injury lawyer.
"If you've looked at what I've done since I took the judicial oath," the nominee said, "that should convince you that I'm not an ideologue."
The careful conclusion of Roberts' 20 hours of testimony leaves one drama unresolved in the Senate role in the first Supreme Court vacancy in 11 years: How many Democrats will join Republicans in voting to give him a seat on the court?
Bush originally nominated Roberts to succeed retiring Justice Sandra Day O'Connor but made him his choice for chief justice after the death of William Rehnquist on Sept. 3. Bush has not indicated when he intends to name a successor to O'Connor.
All week, Democrats on the Senate Judiciary Committee complained that Roberts was evasive about his views and values on a range of polarizing issues, including abortion, civil rights, the scope of presidential power and the right to die. Even as the hearing was ending, several Democrats urged him to reveal more of what they called his heart.
"Many of us are struggling with … what kind of a justice would you be, John Roberts," implored Sen. Dianne Feinstein, D-Calif.
The eight Democrats on the panel have not said how they plan to vote. On Thursday, Feinstein and several others vacillated openly.
Feinstein said she had expected Bush to select someone more conservative than Roberts appeared to be. "I don't see anything definitive," Feinstein said of his record and testimony. "And I do see things to believe that … this is a fine legal scholar who will truly look at the law."
Sen. Joseph Biden, D-Del., said that he was trying to decide which Supreme Court justice Roberts would resemble most. Biden said that he would vote against Roberts if he decided the nominee were akin to Justice Antonin Scalia but probably would support Roberts if he were most like Rehnquist.
Sen. Charles Schumer, D-N.Y., said, "I, for one, wake up in the middle of the night thinking about it, and have been unsure how to vote." He told Roberts: "You will in all likelihood affect every one of our lives in many ways for a whole generation. So this isn't just rolling the dice – it's betting the whole house."
Republicans countered that many of them had supported justices chosen by President Bill Clinton, while differing with their views.
Local journalism is essential.
Give directly to The Spokesman-Review's Northwest Passages community forums series -- which helps to offset the costs of several reporter and editor positions at the newspaper -- by using the easy options below. Gifts processed in this system are not tax deductible, but are predominately used to help meet the local financial requirements needed to receive national matching-grant funds.
Subscribe now to get breaking news alerts in your email inbox
Get breaking news delivered to your inbox as it happens.
---