Sports
Seattle's run shortage benefits Texas
Fri., Sept. 16, 2005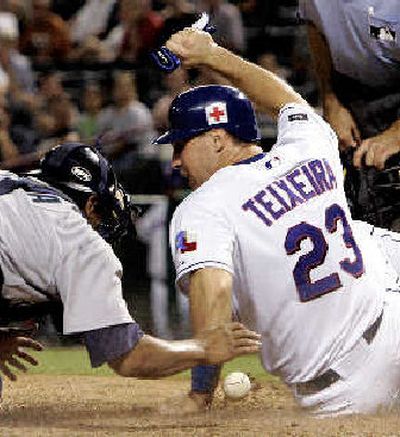 ARLINGTON, Texas – They did so many things well Thursday it seemed a shame that the Seattle Mariners lost just because they couldn't score enough runs.
Oh, they had chances in their 4-3 loss to the Texas Rangers – in fact, they had chances upon opportunities upon how-did-they-not-score-that-inning rallies.
The Mariners outhit the Rangers. They played much better defense. They bunted more successfully. They ran the bases more aggressively.
Ah, but there was that scoring issue. When it mattered most, the Mariners couldn't do it.
"Thirteen men left on base?" Seattle manager Mike Hargrove asked. "Hard to win when you leave that many guys on base – and so many times in scoring position."
Nearly as galling, the Rangers had more errors (four) than hits (three) after seven innings and still led. The pitcher who beat the Mariners, Kameron Loe, had three of those errors. Added to all those stranded runners, the Mariners had two others cut down at the plate on bang-bang plays.
"We had the chance to win tonight, we just couldn't get it done," said Jeff Harris, who was tagged with the loss despite giving up just two earned runs in seven innings.
The Rangers won despite their many mistakes by making plays when they had to – and they had to often.
Seattle led 2-0 until Texas capitalized on a fielding mistake in the third inning to tie the game. After allowing a single and a walk, Harris got what looked like a double-play grounder to first base from David Dellucci.
Richie Sexson fielded it cleanly and threw to second base, but umpire Brian Knight ruled that rookie shortstop Yuniesky Betancourt was off the bag when he took that throw.
Everyone wound up safe, Betancourt was charged with an error and two pitches later, Michael Young singled home a run with his 200th hit of the season. One out later, the tying run came home on a sacrifice fly that should have been the third out but wasn't.
"I was on the bag," Betancourt insisted, "I thought he was out, but the umpire said I was off the bag."
An inning later, the Rangers scored on one hit – a double – and a Gary Matthews sacrifice fly. Harris didn't allow another hit the rest of the way, but it didn't matter. The Mariners couldn't score.
They came close twice.
Greg Dobbs singled in the fifth and, with two outs, Betancourt doubled off the wall down the left-field line.
The ball caromed directly to outfielder Kevin Mench, who threw to shortstop Young – and Young's perfect relay just beat Dobbs to the plate for the final out.
In the sixth, catcher Yorvit Torrealba singled, was bunted to second base and, with one out, tried to score when Jeremy Reed grounded to third base. He was out.
By the time the Mariners did score again, pushing home their third run in the ninth, the Rangers had scored an insurance run against reliever Rafael Soriano.
Still, in that ninth, the Mariners got one man in and, after Dobbs walked, rookie pinch-runner Jaimie Bubela was inserted at first base.
"I put my helmet on and got to first base and saw the 'steal' sign," Bubela said. "I let the count get to two strikes, trying to get a read on the pitcher, then I went."
Bubela stole the first base of his major league career in his first game.
He stayed at second, however, when pinch-hitter Dave Hansen struck out to end the game.
Local journalism is essential.
Give directly to The Spokesman-Review's Northwest Passages community forums series -- which helps to offset the costs of several reporter and editor positions at the newspaper -- by using the easy options below. Gifts processed in this system are not tax deductible, but are predominately used to help meet the local financial requirements needed to receive national matching-grant funds.
Subscribe to the sports newsletter
Get the day's top sports headlines and breaking news delivered to your inbox by subscribing here.
---