News > Voices
Artist shares love of art through teaching
Sat., Sept. 17, 2005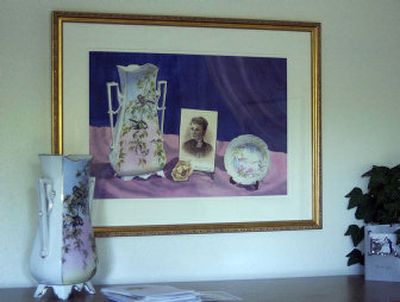 Anne Sherrodd has always drawn.
When she should have been practicing the piano or reading, she would sketch and doodle. "Anne, are you drawing again?" was a phrase she heard often. Now, she paints unabashed to her heart's content.
She grew up in a small town in southwestern Washington. The school she attended through her childhood was too small to accommodate the arts so she did it on her own. When she could, she used her artistic flair to decorate bulletin boards and became involved in the yearbook.
Sherrodd and her husband, Allen, have lived in Spokane Valley for their entire 50-plus year marriage. Most of their five children, 16 grandchildren and four great-grandchildren live close by.
For the duration of her children's time in school, Sherrodd worked for the Central Valley School District and focused her energy on homemaking. She started taking painting classes when the kids were teens. She studied at area colleges and workshops, as well as independently. She began working in oil but her medium of choice is watercolor.
Her résumé provides a description of her work. "She finds the transparency and spontaneity of watercolor perfect for capturing the natural beauty and colors of the Northwest, from the sailing scenes of the Puget Sound and the many exciting lakes, to the towering mountains, and beautiful trees and flowers of the area."
She showed her work for the first time in the early 1980s at a collective gallery in the Seafirst Building where she sold quite a few pieces. Since then, she has shown at the Chase Gallery in City Hall, Spokane Interplayers Theater, Spokane Civic Theater, Museum of Native American Cultures and The Gallery in Coeur d'Alene. She has sold hundreds of paintings in many states, Canada and Japan.
She also has a mural in Sacred Heart Medical Center and four paintings of a farmhouse through the seasons in a medical office in Spokane Valley. In addition, her work has been at the Spokane Valley Library, and a large piece can be seen at Valley United Methodist Church that depicts five representations of the church from 1906 to the present.
Sherrodd is actively involved with the Spokane Valley Arts Council. She has taught Extended Learning classes at Spokane Community College, as well as Spokane Arts Too, and at her own home. She has always encouraged people to have fun with watercolor, telling them that there are no mistakes in painting, just learning experiences.
Sherrodd is part of the backbone of the local arts community. "I have been around a long time," she said, "and I've done a lot of things (involving the arts)." She has arranged many exhibits and will continue to do so at the new CenterPlace at Mirabeau Point Park.
She gives much of the credit to supportive parents and grandparents, and she calls her husband the brains behind her creativity. He frames her work, helps hang shows, and creates greeting cards out of her work.
Local journalism is essential.
Give directly to The Spokesman-Review's Northwest Passages community forums series -- which helps to offset the costs of several reporter and editor positions at the newspaper -- by using the easy options below. Gifts processed in this system are not tax deductible, but are predominately used to help meet the local financial requirements needed to receive national matching-grant funds.
Subscribe now to get breaking news alerts in your email inbox
Get breaking news delivered to your inbox as it happens.
---