News > Voices
Browse Eclectic Avenue Interiors for home furnishings, décor
Sat., Sept. 17, 2005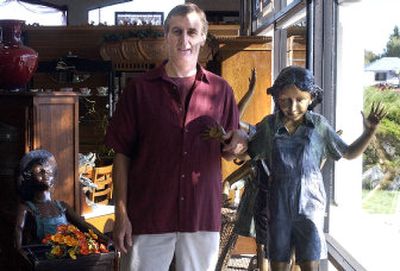 Sprague Avenue drivers can enjoy a little Michelangelo with their morning commute, courtesy of a stove-sized bust of David that marks today's opening of Eclectic Avenue Interiors.
The store, at 14210 E. Sprague Ave., boasts furnishings and décor as unusual as its artsy mascot — including a limited-edition print of black bears driving around in a speedboat.
"The merchandise and theme will change on a weekly basis depending on what we find. We are inventing ourselves as we go," said Jeff Owens, who owns the store with Neal Stone.
Pieces inside the interiors store were accumulated over a two-year period, and there's something different around every corner.
International items highlight Chinese, Thai, French, British and Belgian cultures, while sculptures by Ace Powell and Gary Schildt boast a Western flair.
The store's mix of original and hard-to-find artwork and antiques could decorate a ranch, spruce up a cabin or grace a marble mantle.
A solid oak rocking chair trimmed in cow hide sits near a flawless antique Bombay-style armoire. Nearby are chair-and-table sets made completely of twigs or boasting rattan weaving.
Elegant Chinese porcelain made by Franz features three-dimensional goldfish, frogs, flowers and leaves that meld into vases, teapots and decorative plates.
Gel-powered fireplaces sell for about $600, have full mantles and are easy to install in a room or motor home.
Some pieces – such as a giant swordfish fountain and cast metal sculptures of sea turtles – reflect the store owners' passion for scuba diving.
The men each have 25 years of auction experience and competed before joining forces four years ago, as co-owners of Owens Auction Gallery.
Although the auction gallery is adjacent to Eclectic Avenue Interiors, Owens said the two businesses are completely separate.
A manager was hired to run the interiors store, which also will offer design services. Owens and Stone will focus on purchasing inventory and running the auction business.
"We're out looking all the time, and we're out seeing things that we enjoy. We feel that people will be inspired once they see this merchandise," Owens said.
Eclectic Avenue Interiors is open Monday through Saturday, 10 a.m. to 6 p.m. and Sunday, 11 a.m. to 5 p.m. For more information, call 921-6909.
Seminar explores the genders at work
An upcoming management seminar is offered for professionals who want to positively address gender differences in the workplace.
Activating Men and Women in the Workplace will be Wednesday at University of Phoenix, 8775 E. Mission Ave., from 8 a.m. to noon.
The seminar explores how to recognize and work with gender differences, develop leadership and decision-making skills for both genders and other management strategies.
The cost is $79 per person, with registration for three at $199.
For information or to register, call the Spokane Valley Chamber of Commerce at 924-4994.
Local journalism is essential.
Give directly to The Spokesman-Review's Northwest Passages community forums series -- which helps to offset the costs of several reporter and editor positions at the newspaper -- by using the easy options below. Gifts processed in this system are not tax deductible, but are predominately used to help meet the local financial requirements needed to receive national matching-grant funds.
Subscribe now to get breaking news alerts in your email inbox
Get breaking news delivered to your inbox as it happens.
---