News > Spokane
Cemetery by river unites tribes
Sat., Sept. 17, 2005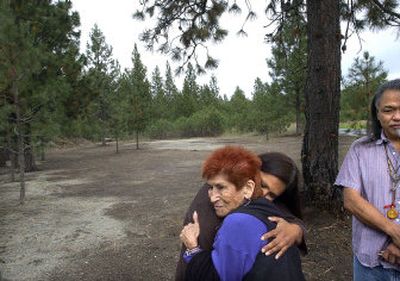 Francis Cullooyah prayed out loud in Salish asking the "Grandfather Creator" to make sacred the ground underfoot that will be the final resting place for American Indians living in Spokane.
His blessing Friday brought the creation of an all-nations American Indian cemetery in west Spokane one step closer to reality.
The All Nations New Beginnings Cemetery will be ready in January with 50 plots on a bluff in Riverside Memorial Park. Crews have already cleared away the brush. It's the first time a cemetery of this kind has been built in Spokane in modern times.
Julie Sleep, who is Cheyenne and is a pre-planning specialist at Fairmount Memorial Association, was inspired by a friend to make the cemetery a reality.
"I know a long time ago our people rested at the river," Sleep said before the blessing began. "Now they can come back to rest."
Sleep wants the site to extend down the bank to the river, which will one day be where a spiritual longhouse would be set up.
Indian leaders estimate 10,000 Indians from 85 tribes in the United States and Canada live in Spokane. Not everyone has the money or the desire to return to their home reservations after they die.
At Friday's blessing, Sleep stood by her friend and inspiration, Marge Stasso, a Kootenai from the Salish-Kootenai Indian reservation in Western Montana. Sleep wiped tears from her eyes and inhaled deeply as Cullooyah prepared to bless the ground.
The Kalispel spiritual leader was invited for his calming presence and wisdom, Sleep said.
With the help of a worker from the Native Project, Cullooyah brought out an array of spiritual items representing Indian nations across the country. A friend who's a Kiowa brought him juniper branches from Oklahoma. Cullooyah also prepared sweet grass and husks. He lit the mix in a shell, and smoke curled from it.
"The spirits of our people are still here," Cullooyah said. "And they're never going to leave."
Cullooyah fanned the smoking shell with eagle feathers and said, "I'm going to begin now."
Cullooyah spoke in Salish as he turned to face the four directions for all the people.
"Keep the people sensitive to the needs of the Native American inhabitants, Grandfather," he said.
And then for the mountains, rivers and trees, he sang a song heard over the land for thousands of years, a song that's not been recorded and has been passed down generation to generation.
"I hope my grandchildren sing this song," Cullooyah said. "Lem Lemt," he said in Salish. Thank you.
Local journalism is essential.
Give directly to The Spokesman-Review's Northwest Passages community forums series -- which helps to offset the costs of several reporter and editor positions at the newspaper -- by using the easy options below. Gifts processed in this system are not tax deductible, but are predominately used to help meet the local financial requirements needed to receive national matching-grant funds.
Subscribe now to get breaking news alerts in your email inbox
Get breaking news delivered to your inbox as it happens.
---