News > Idaho
Family, friends recall great skier, athlete, Steven Servick
Sat., Sept. 17, 2005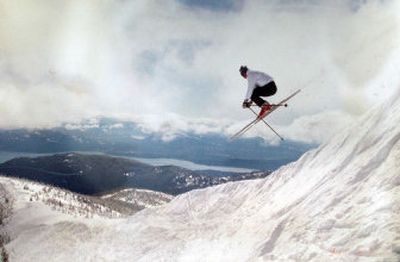 Steven Edward Servick's family often skied together, and that's how Servick learned to master mountains with undaunted determination.
But there was one mountain the Coeur d'Alene resident couldn't master – bipolar disorder. On Sept. 2, 2005, Servick took his life. He was 45 years old.
"He won a lot of wars, but lost the battle, said his sister Susan Servick, a Coeur d'Alene attorney.
Born in Coeur d'Alene on June 16, 1960, Servick graduated from Coeur d'Alene High School in 1978. He earned his bachelor's degree in business in 1982 from Western State College, in Gunnison, Colo., and went on to earn his MBA from the University of Colorado, in 1990.
Servick was a gifted athlete. After his parents, Ed and Karmen Servick, taught him to ski at age 4, he joined the Mighty Mites, where he learned never to quit.
"He would sometimes finish with only one pole or ski, but he always finished," Susan said.
Seeing Jean-Claude Killy win in the Olympics reinforced Servick's determination to race. That determination paid off, for Servick became a champion ski racer.
After a junior ski-racing career and many awards and medals, he won a ski scholarship to Western State College. In 1981, Servick earned All-American Ski Team honors. He led his collegiate team to national honors, as well. Only a turn of bad luck kept Servick from the U.S. Olympic team that year.
Servick also excelled at other sports. He won several tennis tournaments and was a champion player in high school. He was a dare-devil water skier, and also loved cycling. He was involved in many nationally syndicated bicycling events in Colorado while he was attending school there. He also enjoyed mountain climbing, fly fishing and white-water rafting.
When Servick took up golf, he became a scratch golfer within a year. He won several tournaments as an amateur and earned his PGA certificate in 1994. He patiently taught many golfers the game.
Servick's excellent teaching ability led to ski-instructor positions at Schweitzer Mountain. He was especially fond of teaching children, including his niece, Karmen Frampton.
"Teaching and kindness came naturally to Steven," said Karmen's mother, Shelly Servick, a Coeur d'Alene architect.
Servick became marketing director at Schweitzer, where fellow employees nicknamed him "Sparky," which likely meant, "he was so fast sparks would fly from his skis," according to Cornell Clayton, WSU political science professor and Servick's brother-in-law.
Servick set the pace at Schweitzer's NASCAR racing program by running the course first. His time was only broken once due to a slushy course that later turned to ice. A photo of Servick racing graced Schweitzer's brochure at one time.
Ed Servick, Steven's father, shared a story.
"When Steven was in junior high, running a one-mile race, he raced against a boy that previously broke a world record. I didn't tell Steven that, but I did tell him, 'If you can just keep up with that boy, you'll do fine.' Ultimately, Steven and the boy both broke the world record."
Servick loved the camaraderie of friends, such as Dan Benson, of Coeur d'Alene.
"I was friends with Steven, and his best friend, Ken Kohli. We all ski-raced. In 1998, Kohli died in a plane crash, and Steven put together a memorial for Ken at Schweitzer. All over the Northwest, e-mails from skiers are out about Steven's death. Everyone knew him."
And Servick was known for his kindness.
"He would never intentionally hurt anyone," Susan Servick said. "We loved him, and he loved us. He built a good life, had many friends, was a great teacher, and loved teaching kids. He found joy in that."
Servick's battle with mental illness grew more difficult for him to deal with in his last years. Bipolar disorder is a serious illness, characterized by extreme mood changes, from mania to depression.
"We didn't talk about his illness much before, as we didn't want to betray his confidence," Shelly Servick said.
Servick's mother agrees.
"Steven just wanted to be like everyone else and have a normal life and a good job," she said.
Servick recently attended Lake City Community Church and was a lifelong member of Trinity Lutheran Church in Coeur d'Alene.
Pastor Katy McCallum Sachse said to her congregation, as John Denver's "Sunshine on My Shoulders" played at Servick's funeral, "Our lives are full of both darkness and light. So too, was Steven's life …"
Clayton shared the words of writer Norman Mclean.
"…what can I do, oh Lord? For it's true we often cannot help those closest to us: either we don't know what part of ourselves to give, or, more often, the part we have to give is not wanted. And so it is with those we live with and know, who elude us. But we can still love them. We can love them completely, without complete understanding."
And his family did just that.
Servick's mother recalls, "He was a gentle, kind man, and we had such good times together. We loved each other, and we'll all miss him, forever."
The Servick family's hope, in their time of pain, is that in sharing the truth about Steven Servick's illness and death, good might come from their tragedy.
Benson and Coeur d'Alene Golf Course are planning a golf tournament/fund-raiser in Servick's memory for next summer. Proceeds will benefit youth golf.
Local journalism is essential.
Give directly to The Spokesman-Review's Northwest Passages community forums series -- which helps to offset the costs of several reporter and editor positions at the newspaper -- by using the easy options below. Gifts processed in this system are not tax deductible, but are predominately used to help meet the local financial requirements needed to receive national matching-grant funds.
Subscribe now to get breaking news alerts in your email inbox
Get breaking news delivered to your inbox as it happens.
---