News > Nation/World
Germany could get coalition government
Sat., Sept. 17, 2005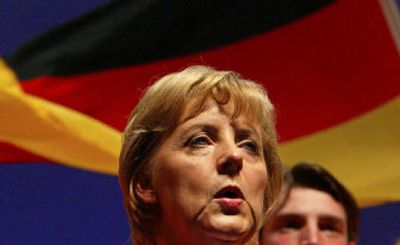 BERLIN – Undecided voters may tip Sunday's German election, a contest between competing visions of how to re-energize the stagnant economy and repair Berlin's battered ties with Washington. Polls suggest a coalition government is the likely outcome.
Analysts still predict the country will get its first female chancellor in Angela Merkel, the leader of the conservative Christian Democrats.
But incumbent Chancellor Gerhard Schroeder's center-left Social Democrats have been climbing in the polls in recent weeks, and Merkel's ability to muster a coalition majority with the small, pro-business Free Democrats is in doubt.
If she gets that majority, the former physicist can proceed with proposals to streamline the tax system, make it easier for small companies to fire people and loosen the rigid labor market – tackling a 11.4 percent unemployment rate and troublingly low rates of economic growth.
Without a majority, Merkel may still wind up chancellor but sharing power in a coalition with the Social Democrats – an arrangement that would spell a less radical break and, in the worst case, policy paralysis.
Polls show her preferred alliance right on the edge of a majority in parliament, mustering between 48 and 51 percent in a survey by the Forsa agency released Friday.
The survey of 2,004 people, carried out between Monday and Friday with a margin of error of plus or minus 2.5 percentage points, found that 25 percent have yet to decide for whom to vote, or even whether to vote at all.
"Even though there are probably a lot of nonvoters among the people who are undecided, this proportion of uncertain voters indicates continuing movement even shortly before the election," Forsa chief Manfred Guellner said.
The electorate seems disgruntled with the current government of Social Democrats and Greens, which lags between 38 and 41 percent. But they also seem fearful a right-wing government might bring change too fast, no matter how much Merkel has tried to assure them she won't take an ax to the welfare state.
A recent Infratest dimap poll showed that the most popular coalition among voters was a bipartisan combination of Christian Democrats and Social Democrats. That gained the support of 36 percent, compared with 29 percent for Merkel's center-right combination.
The daily Frankfurter Allgemeine predicted a broad coalition would feature "the Christian Democrats as the engine and the Social Democrats as the brakes."
Germany's sluggish growth rates – a mere 1.6 percent counted as a meager recovery last year after three years of almost nothing – have been a drag on all of Europe, since Germany makes up about a third of the economy in the 12 countries using the euro.
A turnaround would point the way for the rest of the continent in its debate over how to keep politically popular welfare states running in the face of global competition from lower-wage countries.
Schroeder called for an early election, a year ahead of time, in frustration at resistance to his own attempts to fix the economy. After seven years in power, he has seen unemployment hit record highs, and his limited measures cutting taxes and long-term jobless benefits are slow to show convincing results.
Germany's role in Europe and the world is also at stake.
Merkel would probably turn Germany back toward the United States, its longtime security partner from the Cold War. She could also loosen the ties with France that Schroeder cultivated as his opposition to the war in Iraq made him persona non grata in the White House.
Another big change would be Germany's position on Turkish membership in the European Union.
Merkel opposes Turkey's bid, proposing instead a limited "privileged partnership." Schroeder believes letting Turkey in would help bind the Muslim country strategically to Europe.
Which way Germany goes may depend on tiny shifts in support.
Schroeder's Social Democrats have clawed back some standing in recent weeks after the media-savvy chancellor bested the reserved Merkel in a television debate. He launched a concerted attack on her main finance adviser, Paul Kirchhof, for advocating a 25 percent flat-rate income tax, even though Merkel says she will not implement that idea and is proposing only more modest cuts to upper and lower rates.
Polls suggest the two parties in Schroeder's coalition, together with the new Left Party, could achieve a left-wing majority. But animosity and policy differences with the Left Party – a combination of former East German communists and left-wing defectors from the Social Democrats – make such an alliance unlikely.
Local journalism is essential.
Give directly to The Spokesman-Review's Northwest Passages community forums series -- which helps to offset the costs of several reporter and editor positions at the newspaper -- by using the easy options below. Gifts processed in this system are not tax deductible, but are predominately used to help meet the local financial requirements needed to receive national matching-grant funds.
Subscribe now to get breaking news alerts in your email inbox
Get breaking news delivered to your inbox as it happens.
---