News > Nation/World
Hamas rallies pose a challenge
Sat., Sept. 17, 2005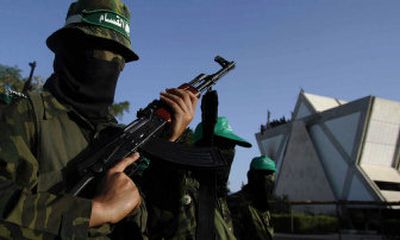 NEVE DEKALIM, Gaza Strip – Thousands of masked Hamas gunmen marched in formation through abandoned Jewish settlements Friday, firing in the air and trampling an Israeli flag in the Islamic militant group's largest military-style victory parade since the Gaza withdrawal.
The show of force – and the Palestinian Authority's persistent failure to stop people from crossing Gaza's border into Egypt – underscored Palestinian leader Mahmoud Abbas' trouble asserting control. Abbas pledged Friday to seal the chaotic frontier in "two or three days," but previous deadlines passed without change.
With elections approaching in January, Hamas and Abbas' Fatah faction are locked in an increasingly bitter power struggle. Each is trying to use Israel's Gaza pullout for political gain.
Abbas is under heavy international pressure to disarm militants, a call reiterated by Israeli Prime Minister Ariel Sharon in a speech Thursday to the United Nations.
Hamas rejects Abbas' pleas to disarm, saying its attacks drove Israel from Gaza and that armed resistance will continue. One Hamas commander, Fathi Hamad, said the Islamic militant group will actually build up its arms. "We will increase our production capacity and the purchase of weapons," he said.
Fatah and Hamas have held competing victory celebrations since Israel completed its pullout Monday, and Hamas has had far bigger turnouts.
Some 10,000 people joined Friday's rally in the ruins of Neve Dekalim, which weeks ago was Gaza's largest Jewish settlement. People waved green Hamas flags, held posters of Hamas' founder, Sheik Ahmed Yassin, who was killed in an Israeli missile strike last year, and burned plastic foam models of settlements.
Standing in columns and wearing camouflage, the Hamas gunmen resembled a private army. Militants fired machine guns into the air, and Hamas vehicles displaying homemade rockets and grenade launchers on their roofs drove over an Israeli flag.
Ismail Haniyeh, a Hamas leader, mocked the Israeli premier's latest call for Abbas to crack down. "We tell Sharon: 'Fool, you are asking the Palestinian Authority to do something you have failed to do with all your might,' " he said.
A delegation from Egypt's doctors' union, a group linked with the banned Muslim Brotherhood, joined the celebration, as did Magdy Hussein, a leader of another banned Islamic group, the Egyptian Labor Party.
Earlier Friday, hundreds of masked Hamas gunmen in military-style fatigues paraded through the abandoned settlement of Netzarim.
Ziad Abu Amr, a Palestinian lawmaker in Gaza who frequently mediates between Hamas and Fatah, said he believes the Hamas threat is exaggerated. He said the militant rallies are celebrations and not meant to defy Abbas.
But Shaker Shabat, a professor at the Al Quds Open University in Gaza, said Hamas is sending two clear messages. "The first one addressed to the Palestinian people is that Hamas is the largest military power in Gaza and it played the biggest role in kicking the occupation out," he said. "The second is to Abu Mazen that you have to think twice before trying to disarm Hamas."
Abbas, widely known as Abu Mazen, traveled Friday to the southern town of Rafah and promised after talks with senior Egyptian officials there to seal the border within two or three days.
Local journalism is essential.
Give directly to The Spokesman-Review's Northwest Passages community forums series -- which helps to offset the costs of several reporter and editor positions at the newspaper -- by using the easy options below. Gifts processed in this system are not tax deductible, but are predominately used to help meet the local financial requirements needed to receive national matching-grant funds.
Subscribe now to get breaking news alerts in your email inbox
Get breaking news delivered to your inbox as it happens.
---