News > Business
How will investors weather Katrina?
Sat., Sept. 17, 2005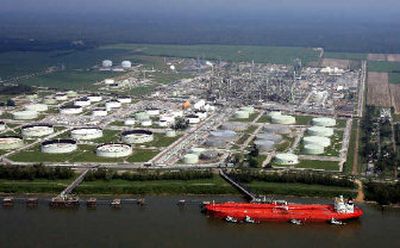 Even as cleanup efforts continue along the Gulf Coast, the ultimate economic and financial impact of Hurricane Katrina won't be known for months. Here's some likely fallout from the storm:
Economic growth seems destined to dip a bit. Many analysts expect the storm will dampen gross domestic product by 0.5 percent to 1 percent, but it's way too early to tell for sure. GDP rose an estimated 3.3 percent in the second quarter.
The big worry focuses on energy production in the gulf. Along with oil prices, consumer-sentiment figures released in coming weeks may provide the best clue about the economy's direction.
Katrina won't flatten the stock market. Normally, you would think oil production disruptions, inflationary pressures on building materials and the budget-worsening impact of rebuilding a major city would send investors scurrying for cover. Besides, we're well into September, normally the weakest month of the year.
Instead, stock prices have rallied since the storm hit.
It helps that oil prices have stabilized in recent days, after an initial jump. Besides, investors seem to think any Katrina-induced slowdown may persuade the Federal Reserve to ease up on its policy of raising interest rates.
Perhaps investors also have learned not to overreact to disasters, which tend to exert a minimal long-term impact on the economy.
Banks will take a hit from the hurricane in the form of problem loans and revenue pressures, but the impact isn't likely to derail the industry.
Most vulnerable are companies with concentrated operations in the region, says Moody's Investors Service, a credit-rating agency. Moody's sees little impact on nationally diversified banks with a presence along the Gulf such as JPMorgan Chase & Co., which runs Bank One Corp.
The disaster struck at a time of robust banking health. Banks earned a combined $33.1 billion in the second quarter — their second-best profit ever — reports the Federal Deposit Insurance Corp.
Troubled loans have dropped for 11 straight quarters, and loan losses are at a five-year low.
Losses from Katrina may set a record, but the insurance industry appears able to handle the pressure. Property and casualty firms count $1.3 billion in assets and a surplus of $390 million, reports the National Association of Insurance Commissioners.
Drivers and homeowners won't likely feel the pinch of noticeably higher insurance premiums, as rates are based on each state's historical losses. Consequently, NAIC predicts homeowners in most states won't see premiums rise much from the disaster.
The hurricane could spark interest in cost-effective donation tactics. Sure, Americans have opened their wallets to benefit hurricane victims, and people who donate cash can claim a charity income-tax break if they itemize. Yet individuals who donate appreciated stock can fare even better.
These investors not only can deduct the value of their shares as a donation but avoid paying taxes on any capital gains. Plus, some brokerages such as Muriel Siebert & Co. are waiving commissions on stock donated for charitable purposes. Many charities will accept stock certificates and sell them at no cost to donors.
Katrina may encourage more financial preparedness among the public. Just as the Terry Schiavo case sparked interest in living wills, the hurricane could prod millions of people to get their overall recordkeeping in better shape.
The Financial Planning Association has prepared a list of records that everyone should safeguard and be able to locate in a pinch. These include birth and death certificates, wills, trust documents, health care directives and user ID numbers and passwords for online financial accounts.
Local journalism is essential.
Give directly to The Spokesman-Review's Northwest Passages community forums series -- which helps to offset the costs of several reporter and editor positions at the newspaper -- by using the easy options below. Gifts processed in this system are not tax deductible, but are predominately used to help meet the local financial requirements needed to receive national matching-grant funds.
Subscribe now to get breaking news alerts in your email inbox
Get breaking news delivered to your inbox as it happens.
---