News > Spokane
'Once-in-a-career opportunity'
Sat., Sept. 17, 2005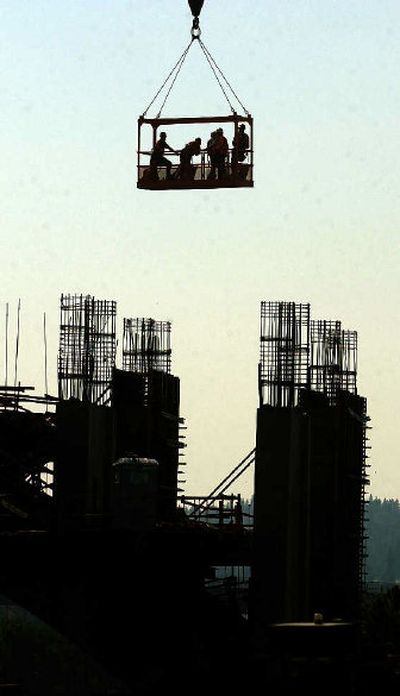 The Monroe Street Bridge is a way across the Spokane river for most people, but to those who worked on its restoration, it was the destination — a chance of a lifetime to prove their skill and dedication. For young engineer Josh Smith, the Monroe Street Bridge project was a great jump-start to both career and a new family.
Smith spelled out his marriage proposal in Christmas lights on plywood last December, and directed his then-fiancée, now-wife Brenna to look up at the bridge as a coworker flipped on the lights.
She said yes, and the two have now been married one month.
But the bridge project is a career capper for Dick Raymond, director of Spokane's capital programs.
Raymond postponed his retirement to see the restoration through to the end.
"I'm such a nerd. I really wanted to be involved in this project. I knew it was a once-in-a-career opportunity," he said.
Colleague Jerry Lynch, the city's project engineer for the bridge agreed: "Only a handful of engineers would get a chance to be involved in a project like this."
From the contractors to the consulting engineer to the construction workers, those who took part in the project described it as a uniquely rewarding and challenging experience.
Though he's worked on countless large engineering projects, Stephen Shrope, engineer of record for the project, and vice president of David Evans and Associates — the design and construction management firm — said this one was different.
"This is much more personal. I'm a Spokane boy," Shrope said. "My grandparents were here and alive when it was built."
Ted Aadland, manager of contractor Wildish Co., said he knew all eyes were on the project.
"The bridge had to be replaced in the highest quality we could do because it had to last another 100 years," Aadland said.
Wildish bought out Aadland's company, F.E. Ward, after it won the Monroe Street Bridge project.
The project's biggest challenges changed over time.
At first it was funding.
When the city's parking meter revenue was tied up in River Park Square garage litigation, bridge and city street projects were left without local money to match federal grants.
That could have meant the termination of several projects.
"I remember when that money went south. It was not pretty," said Raymond.
But the city council came up with the money to fund all the projects in the end.
The old bridge also offered up a few surprises.
"As you get into it, you find things that aren't what everybody thought they would be," said Aadland.
Like a hollow support pier on the north side.
Chiseling that pier down and rebuilding it cost the project a month.
The team worried they might run into a similar problem on the south side.
They got lucky. After a day of scrambling around that pier and testing it, they found that it was solid.
And then there was the project's visibility.
The very thing that made it rewarding to work on — its historical significance and transportation import — made working on the bridge akin to working in a fishbowl.
Everybody could see it. And everybody watched.
"We've got 100 inspectors watching this project," said Sinclair of his fellow city employees.
And the eyes weren't only at City Hall. Library patrons, Federal Building employees, Department of Health officials and folks sweating on the exercycles in the Spokane Club all had a birds-eye view of the bridge work, said Project Superintendent Brad Elfring.
Some didn't hesitate to call with their opinions on how work should proceed.
Elfring said he took such interruptions in stride, knowing the significance of the work. The thing he'll miss most about the bridge is the way he was able to get to know people in Spokane.
The 2 ½ years on site were long in construction terms, said Elfring.
For many, the Monroe Street Bridge has been a chief part of daily life for seven years.
All agree that the end of the project will be bittersweet.
Said Shrope: "It's going to be withdrawal to not have it."
Local journalism is essential.
Give directly to The Spokesman-Review's Northwest Passages community forums series -- which helps to offset the costs of several reporter and editor positions at the newspaper -- by using the easy options below. Gifts processed in this system are not tax deductible, but are predominately used to help meet the local financial requirements needed to receive national matching-grant funds.
Subscribe now to get breaking news alerts in your email inbox
Get breaking news delivered to your inbox as it happens.
---