News > Voices
Pastor who likes challenge retiring from Opportunity Pres
Sat., Sept. 17, 2005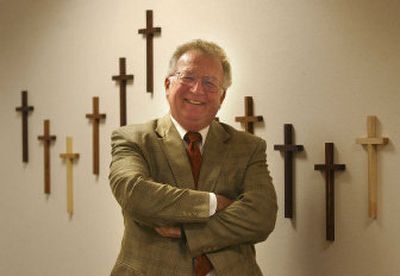 When the Rev. Craig Hall arrived at Opportunity Presbyterian Church, the congregation was in such turmoil he almost didn't unpack. Now, 12 years later, he plans to retire next month while he's still at the top of his game.
The church's previous pastor had been voted out by the congregation after a long-simmering dispute. An interim pastor had patched things up a bit, but members were still in a bit of an uproar when Hall arrived.
"By the time I got here people were pretty well shell-shocked and distressed," he said. "Usually when you get to a church like that, you don't unpack."
Helping churches recover from bad leadership seems to be Hall's specialty, though he never planned it that way. Before coming to Spokane Valley he spent 13 years in Shadow Hills, Calif., where he also replaced a pastor who was fired. "They were going to close the church," said Hall, 63. "I didn't expect to stay."
When he felt it was time to move on, Hall had several options to consider. "I was hoping and praying I would go to a church where everyone was happy, and singing and dancing the aisles," he said. Hall was, in fact, offered such a church. He turned it down in favor of Opportunity Presbyterian.
"I guess it was just a very deep, personal sense of being called to do this. I guess there's something wrong with me. I've always liked a challenge."
Hall has spent nearly 40 years in the ministry, which makes him a rarity these days. Today, the average Presbyterian pastor leaves the ministry after 17 years, Hall said. "The job has changed radically. In the old days the pastor was the scholar/teacher in the community. Then by the '60s we were expected to be therapists as well."
Now pastors are called on to be chaplains, human resource directors and counselors in addition to spiritual leaders. It has led to a high burn-out rate, but Hall made a promise to himself years ago that he wouldn't wait until he was burned out to leave the ministry.
Hall was ordained in 1966 after graduating from Princeton Theological School. He returned to his home state of Pennsylvania for four years before making the jump to California. He served as a pastor and interim pastor there, with occasional work in radio broadcasting, until coming to Spokane Valley.
The ministry was something Hall said he didn't want to do. As a teenager he wanted to be a car designer and would regularly enter General Motors' model competition, winning an honorable mention as a high school junior. But there was always the underlying tug to become a minister. "It was a very, very personal struggle for a long time," he said. He finally informed his family about his decision after he graduated from high school.
Looking back, Hall said he's happy about the path he has taken. "I didn't plan my career," he said. "I tried to stay open to what God wanted me to do."
Hall plans to relax for a while and perhaps travel with his wife of 26 years, Ann. He fully expects to serve as an interim pastor occasionally. "You're always somehow engaged," he said. "You don't just stop."
And if his skills are needed to help another congregation heal, he'll be there. "I kind of feel like an old gunslinger. Anywhere there's trouble, I'll be."
Gospel performance
The gospel singing group Living Proof will perform during the 9:30 and 11 a.m. worship services Sunday at Spokane Valley Nazarene, 15515 E. 20th Ave. They will also give a presentation for children about character and self-esteem between services at 10:30 a.m. All are invited.
Dinner theater
Valley Fourth Memorial Church will host the Wycliffe Dinner Theater titled "Sunong" at 6 p.m. next Saturday. There will be an Asian meal in addition to the drama and music. There is no charge for the event, but donations will be accepted. Those planning to attend are asked to make reservations by calling 922-6474. The church is at 2303 S. Bowdish Road.
Local journalism is essential.
Give directly to The Spokesman-Review's Northwest Passages community forums series -- which helps to offset the costs of several reporter and editor positions at the newspaper -- by using the easy options below. Gifts processed in this system are not tax deductible, but are predominately used to help meet the local financial requirements needed to receive national matching-grant funds.
Subscribe now to get breaking news alerts in your email inbox
Get breaking news delivered to your inbox as it happens.
---