News > Nation/World
Schwarzenegger confirms he's going after a second term
Sat., Sept. 17, 2005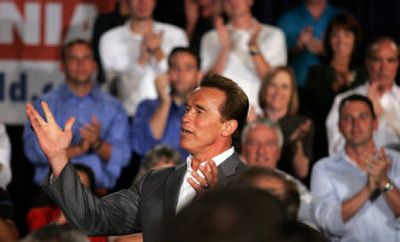 SAN DIEGO – Gov. Arnold Schwarzenegger confirmed an open secret Friday, telling supporters that he's running for re-election next year – an early announcement designed to re-energize his sagging political momentum.
"I'm going to follow through with this here. I'm not in there for three years. I originally got into this … to finish the job. I'm in there for seven years," he told an enthusiastic crowd of about 200 invited guests. "Yes, I will run for governor."
Schwarzenegger had hinted as much for weeks, saying Wednesday he wanted to stay to fix the "broken system" of state government. Privately, advisers have urged the Republican governor to declare for months, though the election isn't until November 2006, three years after he arrived in Sacramento in triumph following the historic recall of Gray Davis.
The announcement was timed to coincide with the state Republican convention in Anaheim, which Schwarzenegger will address this afternoon.
The challengers already are lining up. State Treasurer Phil Angelides and Controller Steve Westly have announced they will seek the Democratic nomination. Two liberal Hollywood luminaries, director Rob Reiner and actor Warren Beatty, also have been mentioned as possible candidates.
Schwarzenegger, whose popularity among Democrats and independents has eroded badly, must generate enthusiasm within his party's base if several ballot initiatives he has championed are to pass in a Nov. 8 special election.
Local journalism is essential.
Give directly to The Spokesman-Review's Northwest Passages community forums series -- which helps to offset the costs of several reporter and editor positions at the newspaper -- by using the easy options below. Gifts processed in this system are not tax deductible, but are predominately used to help meet the local financial requirements needed to receive national matching-grant funds.
Subscribe now to get breaking news alerts in your email inbox
Get breaking news delivered to your inbox as it happens.
---