This column reflects the opinion of the writer. To learn about the differences between a news story and an opinion column, click here.
Opinion > Column
The Slice: Verbal regurgitation can be embarrassing
Sat., Sept. 17, 2005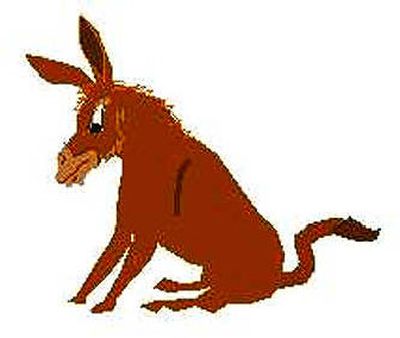 SOMETIMES I SUSPECT parents enjoy embarrassing their kids in The Slice. I mean, why else would a mom tell me that when her 16-year-old daughter Lara was 4, she named her doll "Throw up." Huh? It seems Lara, now a junior at Shadle Park High, had encountered a mother with a baby at a park. And after asking the baby's name, she decided to give her doll that same moniker. But she didn't quite hear it right. That baby's name was actually "Phillip."
" More misspeaking: Robin Kropff was ordering ice cream cones with her husband and young sons. She was trying to decide between maple nut and butter pecan.
But when she made up her mind, it didn't come out right.
"One maple butt ice cream cone, please," she told the girl taking orders.
Her husband and sons found this wildly amusing.
"I don't think we have that flavor," said the girl.
Needless to say, there is zero chance Kropff will ever hear the end of that.
One more, this from Carol Gronholz of Colfax.
"Twenty years ago our grandson Levi, then 4, had been listening to one of many political discussions around the dining room table — common in his very conservative Republican family — when he said, 'Mom, what's a Dumbcrap?'
"Needless to say, you can imagine what the 'other party' was named from that time forward.
"My apologies to anyone from that 'other party,' many of whom I respect although I differ with their philosophies."
" Form and function: Karyn Christner, who manages the beer gardens at Pig Out in the Park, shared a story that might creep you out.
During that event's recent run, a woman came up to one of the servers with a complaint. She reported that someone had peed in the purse holder in one of the portable restrooms.
Purse holder? Uh, lady, that's what's known as a urinal.
"Dogs and newspapers 2: "The first time I took my dog Skip on my paper route, she thoughtfully went back out and retrieved all the papers we'd delivered, leaving them in a pile in the front yard," wrote Don Adair. "The amazing part is we lived in a town with two morning newspapers, and she brought back only the ones we'd left."
"Just wondering: How good are you at covering up sounds with a fake cough?
"Slice reader Cathy Kraus' all-time favorite movies: "Casablanca," "Sabrina," "The African Queen," "The Best Years of Our Lives," "Always," "When Harry Met Sally," "Terms of Endearment," "The Shawshank Redemption," "Some Like It Hot," "Tootsie." (But her favorite scene might be a dance in "Picnic.")
"Today's Slice question: What's your favorite story about Inland Empire confusion? (You know, this area and the IE east of Los Angeles.)
---
---